For 91 days
we lived on the island of Sri Lanka, and had some unforgettable adventures and experiences. We got up close with the wildlife, learned about the country's volatile history, met the curious locals, visited ancient Buddhist ruins, and tried to explore every corner of this amazing country. Whether you're planning your own trip to Sri Lanka, or just interested in seeing what makes it such a special place, we hope you enjoy our anecdotes and photographs. Start
at the beginning
of our journey, visit our
comprehensive index
to find something specific, or choose one of the articles selected at random, below:
We've gathered together all of the articles and over 250 photographs from our three-month adventure in Sri Lanka into an E-Book for your Kindle or E-Reader. Carry all of our Sri Lankan experiences along with you in this portable format. The book includes a comprehensive index, which makes navigation a cinch, and features all our anecdotes, advice and the best full-color images from our months in Sri Lanka. We had an unforgettable time in this beautiful and occasionally frustrating island nation, and hope our experiences can help enrich your own visit there.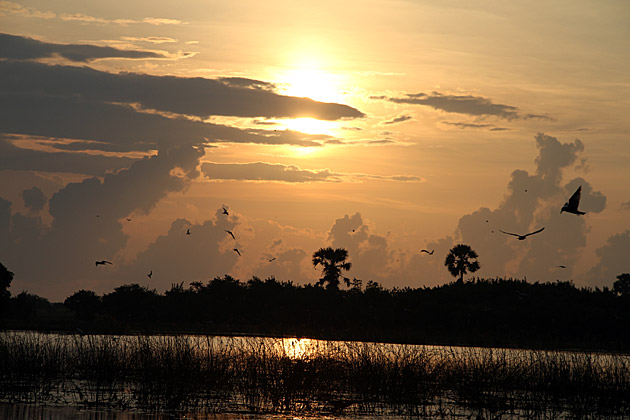 There's more to do in Arugam Bay than just surfing and chilling out in beachside bars. The village is surrounded by some amazing and largely undeveloped nature. One sunny morning, we took a tour of the Pottuvil Lagoon, just to the north, hoping to see the elephants and crocodiles which make their home there.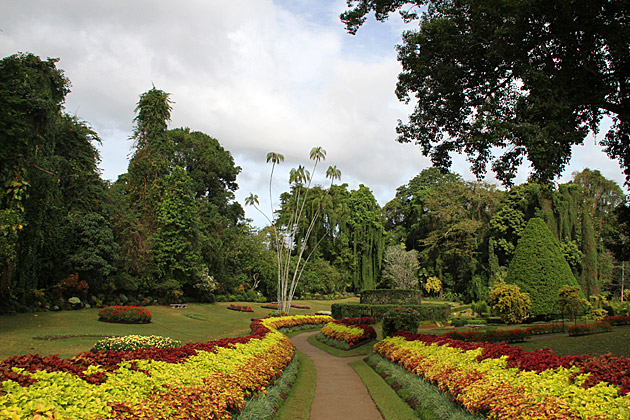 I was a little agitated by the $10 entry fee for the Peradeniya Botanic Gardens, but it didn't take me long after entering to realize that it was money well-spent. Peradeniya's are the most fantastic botanic gardens I've ever seen. Trees the size of sky-scrapers, flower bushes exploding in incredible color, giant palm trees that bloom just once in 45 years, and cannon ball trees with heavy round fruits were just some of the highlights. I've never been so bowled over by botany.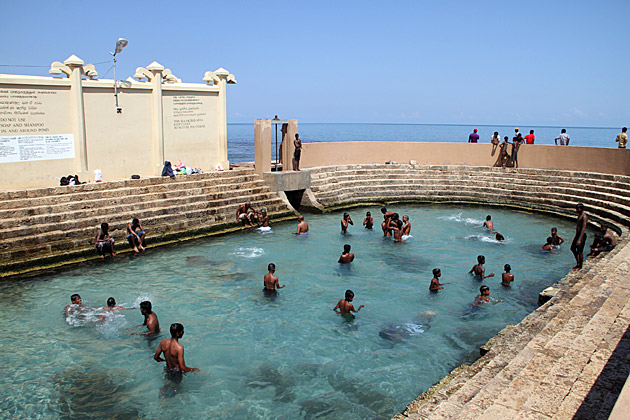 Set on the northern coast of the Jaffna Peninsula is one of the more entertaining places of worship we've ever visited. The Keerimalai Kovil, which overlooks the Palk Strait separating Sri Lanka from India, doubles as a popular pool and hang-out zone for people taking a break from their regular lives. My church's attempts to combine fun and worship were like, Amy Grant Dance Party. Hindus have us beat.
We had reached the large terrace which marks the half-way point on the ascent to the summit of Sigiriya Rock. Before continuing, we took a break and surveyed the remaining path in dread and awe. The next flight of stairs was framed by an enormous pair of stone paws. Because of its profile, Sigiriya had long been referred to as the "Lion Rock", but King Kassapa decided to make the nickname somewhat more literal.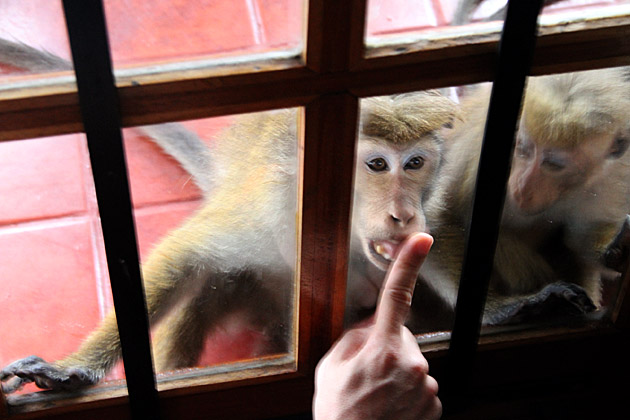 After a morning marked by clouds and humidity, it finally started to rain yesterday afternoon. We didn't mind much. A nice shower provides a welcome breath of fresh air here in Kandy, and we were safe under the roof of our porch. But creatures who live out in the open don't much appreciate the rain. They're forced to seek shelter, and our veranda seems to be an irresistible refuge. It's monkey time!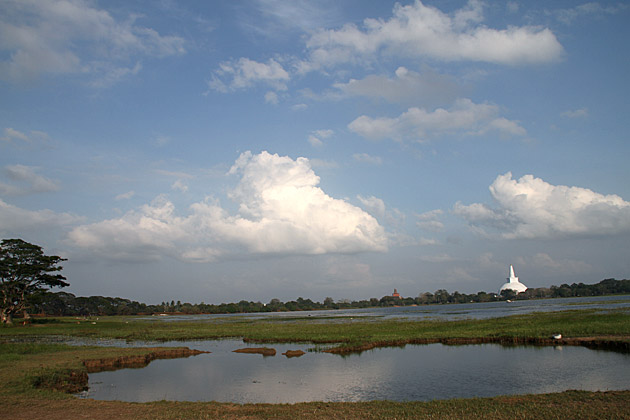 For nearly ten centuries, Anuradhapura was the capital of Sri Lanka and its most important city. Found in the steamy, low-lying North Central Province, Anuradhapura has long lost its political significance, but remains the spiritual capital of the island, and is still one of the world's major Buddhist pilgrimage sites.