Anuradhapura's Sacred City
I've never been in a city as schizo as Anuradhapura. Its two sides are basically equal in size, but opposite in everything else. East/West. New/Old. Secular/Religious. Chaotic/Serene. Humdrum/Magical. New Town/Sacred City.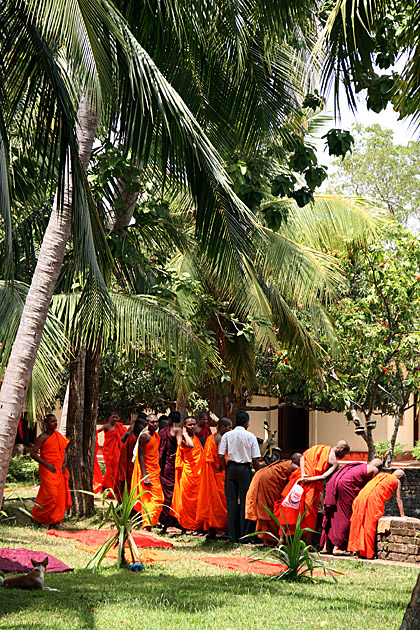 The Sacred City stretches out for five kilometers along the west of Anuradhapura, and contains approximately [let me do a little napkin math] seventeen million ruins. Seeing everything in the Sacred City would take about [scribbling, scratching head, checking equations] 642 hours. Rough guess. The number of ruins is mind-boggling, but not altogether surprising. After all, Anuradhapura was the capital of Sri Lanka for about a thousand years; the cradle of one of the world's most enlightened religions and advanced civilizations. And for most of modern history, it was abandoned. Its buildings, temples, monasteries and stupas were left alone to fend for themselves against monkeys and the encroaching jungle, and protected from the interference of humanity.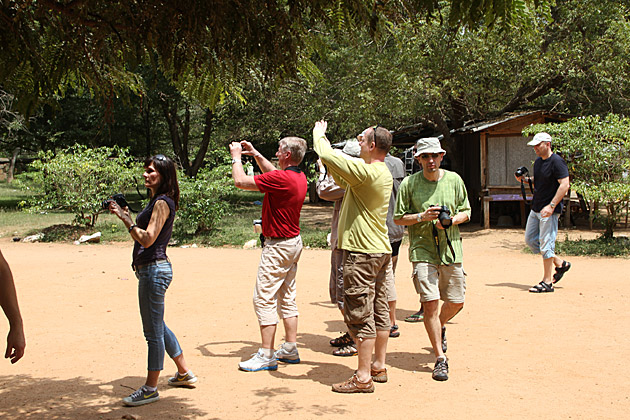 It's impossible to see the entire Sacred City in one day, though that doesn't stop people from trying. One of the more common sights is a huge bus stopping in front of a stupa and unloading forty harried tourists wearing safari hats, who climb on top of each other to snap identical pictures and then scurry back onto the bus. Off to the next sight, no time to waste! Needless to say, it's not the best way to see the Sacred City, as you get no sense of its grandeur or mystery. (But if your schedule only allows a few hours to see Anuradhapura, make a beeline for the Abhigiriya zone, which is the most atmospheric and offers a little of everything that makes the city so amazing).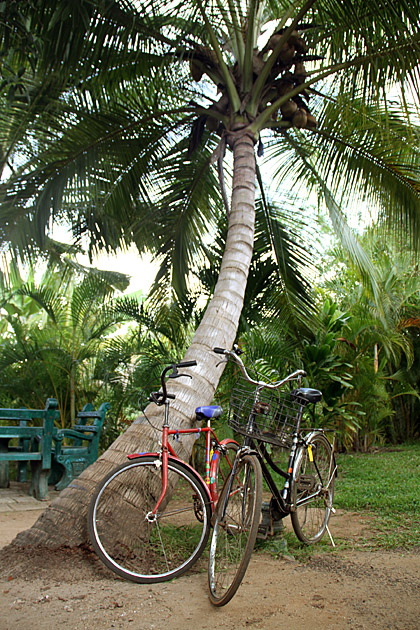 No, the best way to see Anuradhapura is over a couple days, and on bikes. Which is the way we did it [pats back, uncorks tiny bottle of champagne]. Perfectly flat, largely free of traffic and spread out over a great distance, the Sacred City is made for bikes. Most guesthouses rent them for the day, and we found a shop (here) which lets bikes for 350 Rs, and is open to haggling for multiple-day rentals.
Another important tip is that, unless you're going to a museum, you don't need tickets to visit the Sacred City. Officially, you're expected to shell out about $25 per head, per day, as a foreigner. We spent five days exploring the Sacred City, which would have cost us $250. It's ridiculous and completely discriminatory: anyone who looks like a Sri Lankan is free to come and go as they please. Again, the fee is part of the government's maneuverings to capitalize on tour groups, who pay the inflated entrance charge as a part of their package deal. Luckily, independent travelers can easily skip it, since tickets are rarely checked. Over the course of five days, we were asked to show our tickets once. We just said, "don't have them", turned around and reached our destination from a different route.
During most of our ticket-less days in the Sacred City, we passed by the Sri Maha Bodhi. One of the most venerated objects in all Sri Lanka, this large Bodhi was grown from a slice of the tree under which Buddha gained enlightenment. It stands near the center of the Sacred City and, at any time of day, worshipers surround its pavilion, chanting, praying or just standing there looking at it. After his enlightenment, Buddha spent seven days staring at his Bodhi tree, unblinking, in admiration and thanks. Sri Maha Bodhi is a good orientation point in the Sacred City, and serves as a convenient starting spot from which to see the other sights.
Location of Sri Maha Bodhi on our Map
–Book your Travel Health Insurance Here