For 91 days
we lived on the island of Sri Lanka, and had some unforgettable adventures and experiences. We got up close with the wildlife, learned about the country's volatile history, met the curious locals, visited ancient Buddhist ruins, and tried to explore every corner of this amazing country. Whether you're planning your own trip to Sri Lanka, or just interested in seeing what makes it such a special place, we hope you enjoy our anecdotes and photographs. Start
at the beginning
of our journey, visit our
comprehensive index
to find something specific, or choose one of the articles selected at random, below:
We've gathered together all of the articles and over 250 photographs from our three-month adventure in Sri Lanka into an E-Book for your Kindle or E-Reader. Carry all of our Sri Lankan experiences along with you in this portable format. The book includes a comprehensive index, which makes navigation a cinch, and features all our anecdotes, advice and the best full-color images from our months in Sri Lanka. We had an unforgettable time in this beautiful and occasionally frustrating island nation, and hope our experiences can help enrich your own visit there.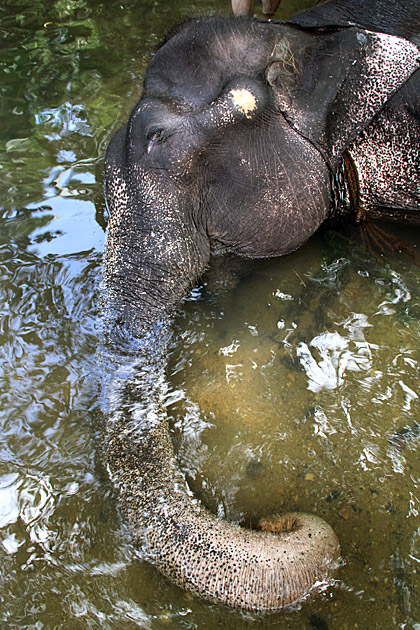 Spurred by the popularity of the Elephant Orphanage, the area around Pinnawela has become something of a strip mall for elephantine adventures. Up and down the narrow road leading from the highway are signs and shops touting "Elephant Rides!" or "Pet an Elephant!" It's a little dispiriting, but after our positive experience at the orphanage, we decided to push our luck and visit the Millennium Elephant Foundation before heading back home.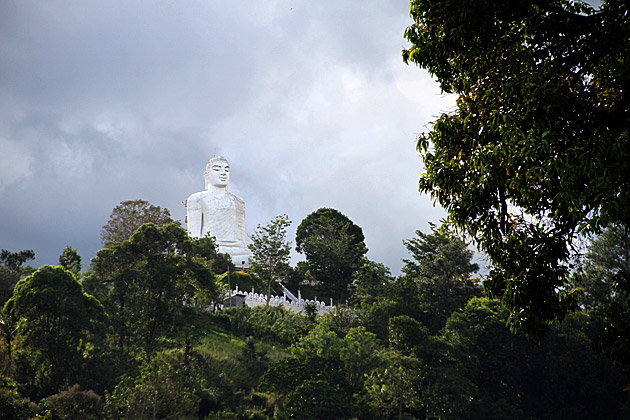 The giant white Buddha which sits atop Bahirawakanda hill is visible from all over Kandy, and a visit, whether by tuk-tuk or foot, is worth the effort for an unbeatable view. From atop Bahirawakanda, the city and its lake are laid out beautifully before you, and you'll feel secure underneath the big Buddha's benevolent, protecting presence. You might need the protection more than you realize. The spot on which you're standing has an evil past…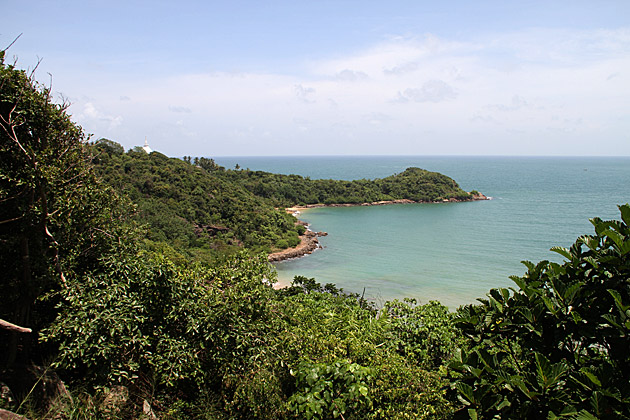 After visiting the gleaming white Japanese Peace Pagoda which provided a wonderful view of Galle Fort, we climbed down toward the true destination of our day trip — Jungle Beach. Not another person in sight, just twin stretches of deserted sand trapped between the ocean and Rumassala Rock. Having just experienced the soul-crushing lameness of Unawatuna, this beach was exactly what we needed. Peace, solitude and gorgeous nature.
The small, densely-forested Udawattakele Sanctuary is home to a huge variety of plants and animals, and offers a number of long, secluded paths for exploration. During the morning we spent there, we felt completely alone, almost frighteningly so. Amazing, considering the fact that Uduwattakele is basically in the middle of Kandy.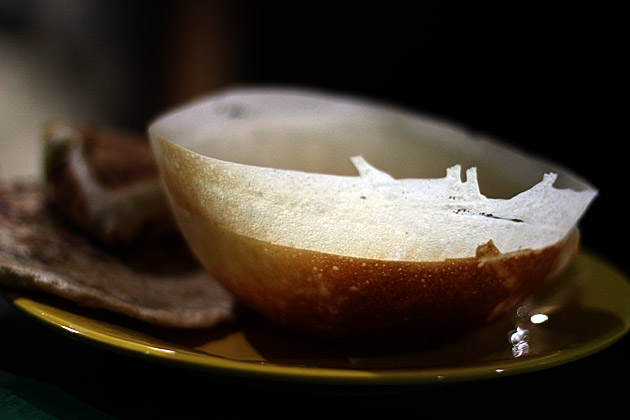 Hoppers, or appa in Sinhala, are one of Sri Lanka's most popular snacks, available at nearly every shop across the country for breakfast or dinner. They're good for a quick bite, and their preparation makes for fun spectating.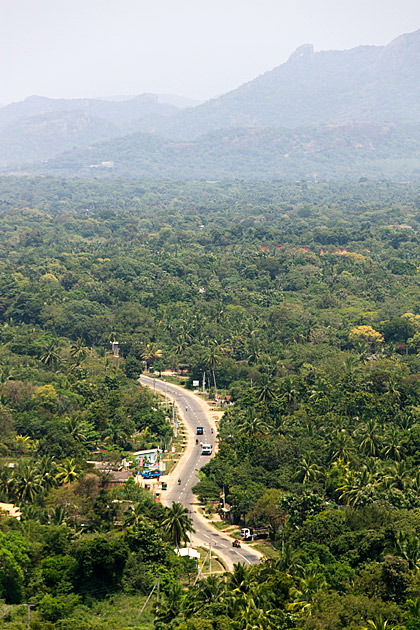 During our stay in Polonnaruwa, the owner of our guesthouse had arranged a trip to the Eco-Park of Habarana. We'd heard good things from other travelers, and were anxiously awaiting our afternoon hour of departure. But we ought to have been looking forward to the trip with apprehension, instead of excitement.