The Jungle Beach at Galle
After visiting the gleaming white Japanese Peace Pagoda which provided a wonderful view of Galle Fort, we climbed down toward the true destination of our day trip — Jungle Beach. Not another person in sight, just twin stretches of deserted sand trapped between the ocean and Rumassala Rock. Having just experienced the soul-crushing lameness of Unawatuna, this beach was exactly what we needed. Peace, solitude and gorgeous nature.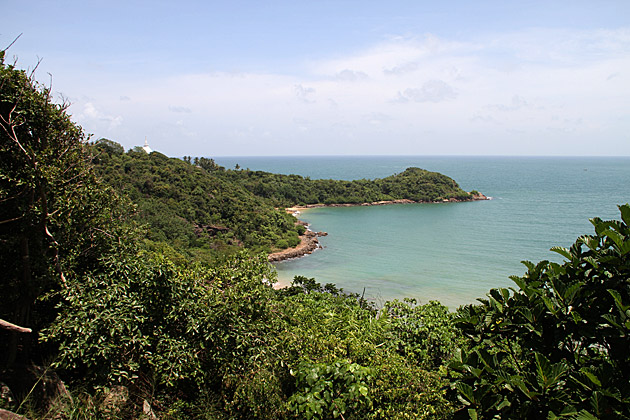 The fact that the Jungle Beach was completely empty was a minor miracle. It's not exactly a secret — you can clearly see it from the Fort, and everybody in Galle knows exactly where it is. And getting there wasn't even difficult: a 400 Rupee tuk-tuk drive to the pagoda, and then a quick ten-minute downhill hike. So, why do 72,319,310 people pack onto the beach at Unawatuna, and nobody comes here? I don't know, and I don't care.
This was the best bit of beach we've found during our weeks on Sri Lanka's south coast. It's worth the effort of searching out.