Though our initial stop in Sri Lanka was Colombo, we only spent a few days there, saving the first extended stay of our 91-day itinerary for Kandy. Strategically situated high in the hill country, almost exactly in the middle of the island, Kandy was the last bastion of Sri Lankan independence during the colonial period. Today, the smallish city of just over a hundred thousand pulses with life and a heavy tourist presence, for which it can thank its unique culture, history and unbelievable natural beauty.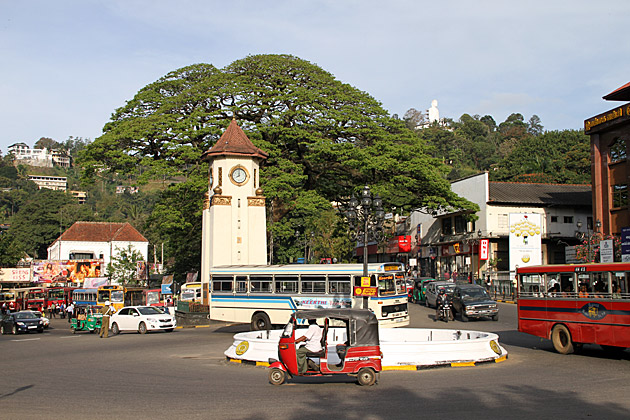 The Kandian Kingdom resisted the Europeans for over a hundred years, thanks to its natural surroundings and crafty defenses. The capital was difficult to reach and nearly unassailable, and brave Kandians successfully repelled the Portuguese and Dutch before succumbing to the British in 1818. As we approached Kandy from Colombo, we understood how the kingdom had been able to resist for so long. This is rough terrain, protected by thick forest and a dizzying inclination.
Kandy is almost ridiculously gorgeous. The city's centerpiece is a large artificial lake, constructed in 1808 by one of the last kings. On the lake's northern shore, you can see the golden-roofed Temple of the Tooth, Sri Lanka's most important temple, which holds a canine tooth of Buddha. The city proper extends west from the temple, along one main road and just a few periphery streets behind that.
Apart from the requisite tuk-tuks, Kandy is a world away from Colombo. Lushly green, quieter, slower and happier than the bustling capital. It seems to belong to another time. Our first evening, as we were walking back to our apartment, we fell fully into its bizarre vibe. The sun was setting, turning the sky a light purple, and the 6:30 puja had started. Swarms of white birds soared overhead while the unintelligible sounds of Buddhist chanting emanated from speakers set up along the lake. It was warm, but a cool breeze was coming off the water, and we felt blissfully out-of-sorts. This was to be our hometown for the next three weeks? We could live with that.