The Fort District of Colombo
We had only walked about 100 meters into the seaside district of Colombo known as Fort, as far as the colonial clock tower, before having to turn around and walk back out. This neighborhood, the oldest and most historic in the city, has been a militarized zone since 1996, when a bomb-laden truck exploded in front of the Central Bank, killing 91 people and wounding over 1400. Although the Civil War has ended, half of Fort remains inaccessible.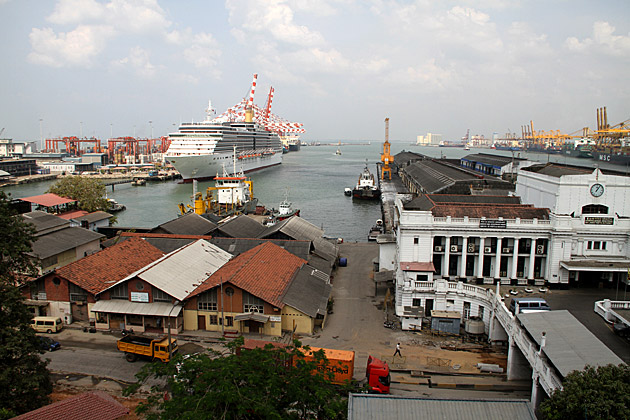 Fort was the first neighborhood we visited in Colombo. After a marathon 36 hours of travel, we still had few hours to kill before we could check into the hotel. The lack of sleep was affecting our powers of reasoning, and we decided to go out exploring, instead of finding a cafe in which to rest. "This is going to be great!" We were running on fumes; the excitement of being in a new country. "Hahaha! We can rest when we're dead! Let's go!" The nearly manic level of energy would last for about fifteen minutes.
Fort is the financial center of Sri Lanka, where many of the island's banks are headquartered. It's also home to Colombo's modern architectural landmark: a pair of twin towers which shoot into the sky, dwarfing the neighboring buildings and dominating the skyline. Hmm… conspicuous twin towers in the nation's financial capital. On seeing a big sign boasting their name, I thought the sleep-deprivation must be causing hallucinations. The World Trade Center.
Gripped by the urge to quickly distance ourselves from these towers, we soon arrived at the doors of Cargills, a red, block-long brick building which had been the island's grandest department store back in colonial days. We stepped inside, encountered a paltry assortment of desks selling things like notebooks and knockoff handbags, and stepped right back out. The building is impressive from the outside, anyway.
By the time we arrived at the city's harbor, on the northern end of Fort, we were full-fledged zombies. The harbor was another area barricaded behind militarized security, and totally inaccessible. "Gargh", I remarked to Jürgen. "Care?" Jürgen considered and, after a moment's contemplation replied, "No care. Gargh! Jürgen want rest!" Well said, and I was in total agreement. Luckily, we were right next to the Grand Oriental, an historic hotel established in 1837. The fourth-floor bar offered an incredible view over the harbor, and cold, life-restoring beer. It was a great place to end our tour through Fort, which must be among the strangest neighborhoods of Sri Lanka.
Location of the Fort's Clocktower on our Sri Lanka Map