Colombo Short Stay – Your Posh Condo in the City
With a magnificent setting in the 22nd floor of the Emperor Building, itself part of the five-star Cinnamon Grand's complex, the luxury condo offered by Colombo Short Stay was an incredible place to spend our last night in Sri Lanka. Out on the balcony, with a bottle of red wine and a view that stretches over the Indian Ocean and most of the city, we couldn't have found a better spot to wrap up our journey.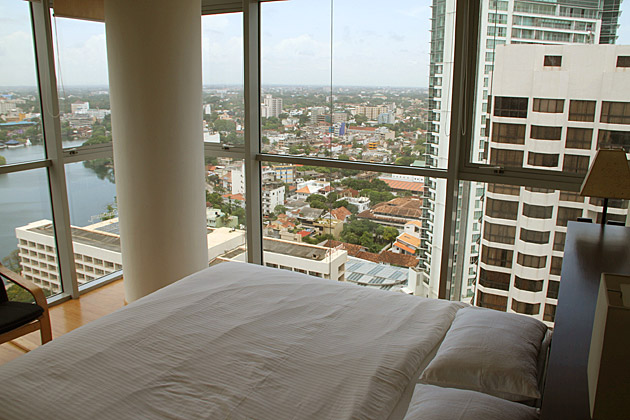 The modern condo has three bedrooms and two bathrooms, sleeps six people, and combines the best aspects of a private apartment and a luxury hotel. Within the condo, you'll enjoy the comforts of home, like high-speed internet (the fastest we've had in Sri Lanka), a huge flat-screen TV, BluRay player, washing machine, giant fridge, cozy furniture, and a well-equipped kitchen. Then you can step outside into the world of a five-star hotel — a swimming pool, incredible (and surprisingly affordable) restaurants, a workout room with ultra-modern machines and great shopping.
The Emperor Building is in one of the best neighborhoods of Colombo, right between the Galle Face Green and Temple Trees, which is where the president lives. And you have one of the city's best shopping complexes, Crescat Boulevard, mere minutes away.
If you're staying in Colombo for an extended period of time, definitely take a look at the availability in this condo. It also makes a lot of sense for families or small groups, who might otherwise have to rent multiple hotel rooms. We loved our stay here, and were happy to have such a comfortable final home in Sri Lanka.
See More Photos and Check Availability: Colombo Short Stay – The Emperor