The Train from Colombo to Kandy
The slow-moving, three-hour journey from Colombo to Kandy is one of the most spectacular train rides we've ever taken. The track leaves the smoggy metropolis quickly behind, and travels inland through regions of increasing beauty and altitude, until arriving at Sri Lanka's hilltop jewel, Kandy. Throughout the ride, we were captivated by the ever-changing landscape, and spent the trip poking our heads out open windows, or hanging carefree from the doors like the feckless punks we are (or, would like to be).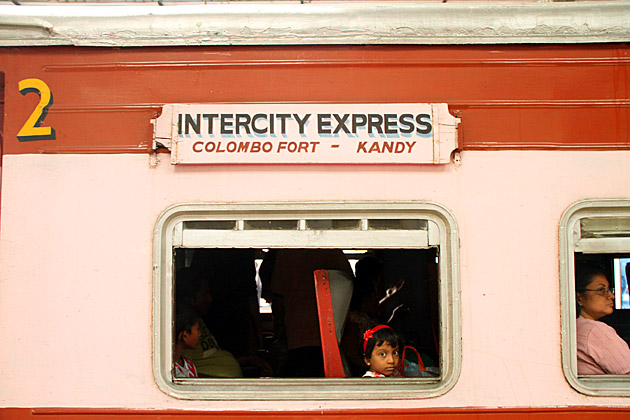 In 1864, the British introduced rail to Sri Lanka, or Ceylon as the island was then known. Steady and reliable transport was needed to bring coffee and tea from the central highlands to the port of Colombo, and trains served the purpose nicely. Colombo-Kandy was the original line and, with the progression of decades, the network expanded. Today, you can travel with train around much of the country — the north, and south-east being the two big exceptions.
We had such a great time on the train to Kandy that we promised ourselves to utilize trains whenever possible. Second class tickets cost around 200 rupees apiece (less than $2). First class, also wonderfully cheap, was unfortunately sold out. I don't know what kind of difference the class-upgrade would have made; our seats were plenty large and comfortable. And the unforgettable views were the same. Upon arriving, we almost felt like staying on the train, and heading straight back to Colombo.
Location of the train station on our Colombo Map
–An other fun train ride we took: From Sucre to Potosi