Colombo's Gangaramaya Temple
Immediately after visiting the quiet water temple of Seema Malaka, we decided to check out Gangaramaya. Built in the 1800s, this is the most important place of Buddhist learning and worship in Colombo. The sprawling complex is a bewildering assault on the senses. Packed with worshipers, tourists, clouds of incense, chanting, elephants (alive and stuffed), and a collection of everything even the slightest bit related to Buddhism, there is enough here to occupy a huge chunk of time.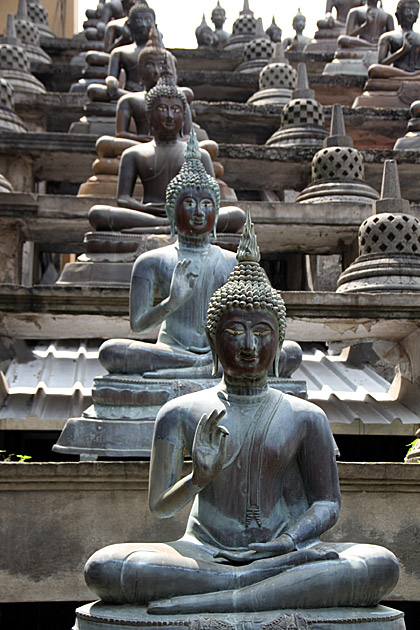 When visiting temples, we usually maintain a quiet composure and respectful behavior. There's nothing more hideous than a sunburned tourist in a place of worship, with safari hat and fanny pack, laughing and yakking as though he were at Disney World, and snapping pictures of the funny little monks who are clearly there for his amusement. But when we entered Gangaramaya, the first thing I did was run over to the resident elephant like a blathering idiot. "Can I touch it, huh? Huh? Can I?" I guffawed and posed while Jürgen took photos of me with the gentle giant, whose name is Ganga. The usual dignity? Out the window. Shucks, I'm touchin' a real-life elephunt! Gyuk-gyuk.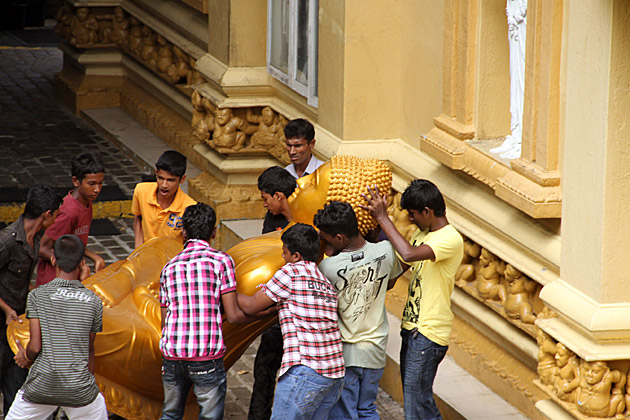 Having to pay Ganga's caretaker 500 Rupees brought us back down to earth, and we composed ourselves before exploring the rest of the temple. First, we ventured into the image room — fantastic. With a massive, golden Buddha decorated with elephant tusks and surrounded by various other gods, this room was breathtaking. Nearby, there's an ancient Bo Tree, which worshipers were circling. I love this aspect of Sri Lankan Buddhism. Every temple on the island has a Bo Tree, which is subject to almost as much veneration as images of Buddha himself. According to the faith, it's the tree which Buddha sat underneath while obtaining enlightenment.
We spent a lot of time inside Gangaramaya's strange and delightful museum. A guide led us on a tour of the wide-ranging collection of bric-a-brac and Buddhist memorabilia. There were gifts from other Buddhist nations, including a Japanese sandalwood cabinet which our guide claimed was worth at least a million bucks. And we saw the world's tiniest Buddha, smaller than a thimble, which revealed extraordinary detail underneath a microscope.
Gangaramaya is one of the top sights in Colombo. Don't pass up a visit to this amazing, living center of Buddhism.