The Kitsch Madness of Wewurukannala Temple
The village of Dickwella's claim to fame is the Wewurukannala Temple, which houses the largest Buddha in Sri Lanka. But there's more to see here than just some big statue. A marvelously kitschy image house, an illustrated Hall of Sin, colorful statues and a resident elephant are among the secondary highlights of this entertaining place of worship.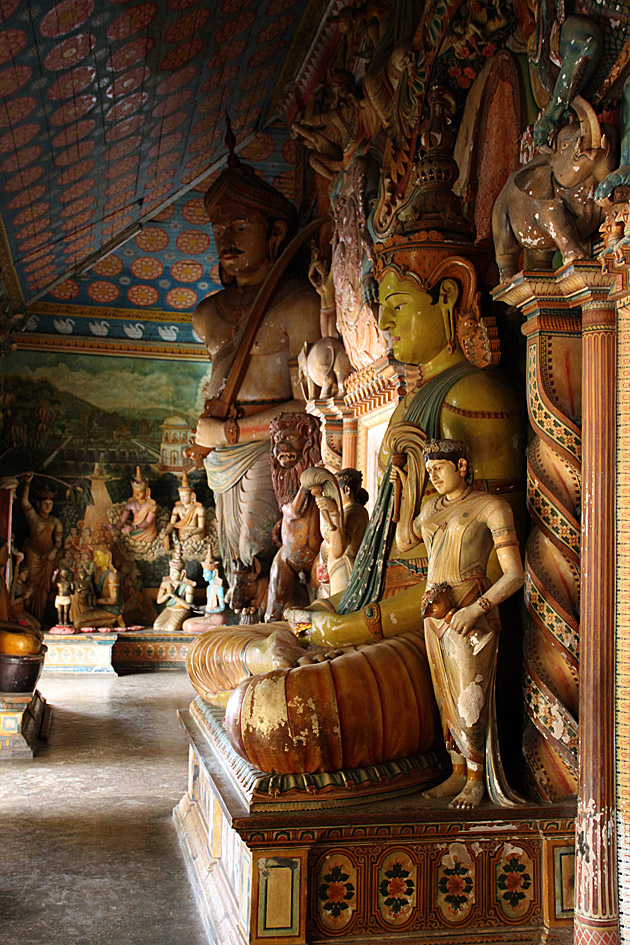 Entrance to Wewurukanalla is just 200 rupees, although by the end of our visit, we had dropped considerably more than that in assorted donations, tips and bribes. The first building we explored was the image house, surrounded by a colorful collection of statues depicting gods and princes involved in a bevy of surreal scenes. I would have liked to have a guide during this part of the tour, because: why is the horse licking the blue-skinned maharajah's feet? I don't know. Inside, four massive Buddha sculptures dominate the image house, which is also filled with wall paintings and smaller statues of lesser gods.
The next building was a long hall dedicated to Buddhist Hell. As we learned at Aluvihara, Buddhist Hell is no place we'd like to visit. Demons gleefully rip humans in two, skewer them, or dunk them in boiling lava. And this was just in the foyer! Down the narrow hallway, which resembled the entrance to some sort of evil underworld, the walls were lined with an exhaustive catalog of sins and their punishments. In the top row, paintings of various offenses such as "disrespecting a monk" or "gossiping", and below, the corresponding castigation you could expect in hell. Such as having your eyes ripped out, or being skinned alive. Charming.
Doubtlessly, the highlight of Wewururkannala is the mosaic-covered Buddha, which reaches a height of 162 feet and was built in the 18th century. Unfortunately, the Buddha was covered in scaffolding during our visit, as restoration work was being done on the mosaics, but it was still impressive.
We didn't linger long at the Buddha because, in the adjacent clearing, my eyes had happened upon another peaceful, larger-than-life character. Temple Elephant! Now, the best thing about temple elephants is that they're used to people, and they're chained down so they can't escape your hugs and kisses (if they try, they get punished) We paid the requisite bribe to its handler, and then petted the elephant and posed for pictures, just giving ourselves over completely to the role of 'obnoxious tourist'. Yes, we noticed that "Wewu" kept rocking back and forth, probably mentally impaired from his long years of captivity, but we bravely pushed such unpleasantries from our minds and continued petting him.
-Traveling to Sri Lanka? Download our Sri Lanka Travel Book