Dickwella and the Hoo-maniya Blowhole
No, Dickwella and the Hoo-maniya Blowhole is not the perverted name of a new punk band, but the twin objects of our first day trip outside of Tangalla. The blowhole is a natural wonder formed by cliffs along the coast, and Dickwella is a frantic coastal town where activity can reach a level of absurdity.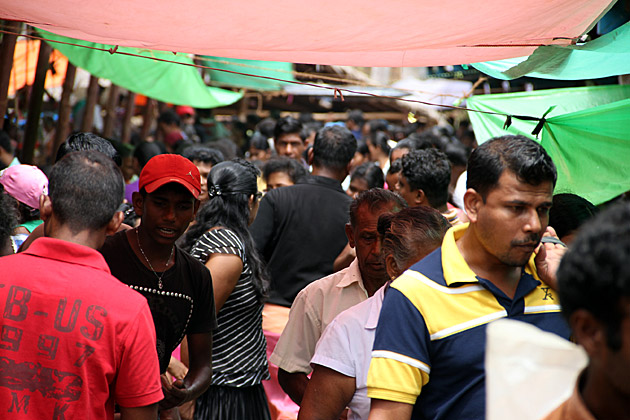 First up was Dickwella, where later we'd be visiting the Wewurukanalla Temple. We hadn't actually expected to linger in the town, but were instantly caught in its current, flailing our arms uselessly while being swept through jam-packed streets. This was New Year's Day, which probably explains the ridiculous number of people on the street, but seriously. Not only was every sidewalk and shop jam-packed, but everyone was in a abnormally good mood.
We soon found ourselves in Dickwella's Market, spread out along the beach. Half of Sri Lanka's population was there, selling fruits, veggies, knives, spices, t-shirts and underwear, and the other half was there buying it.
A few kilometers back towards Tangalla is the Hoo-maniya Blowhole, a rock formation that mysteriously shoots spouts of water straight into the air. There was an entrance fee for foreigners and a large, modern visitor's center which we were asked to tour… all of which seems a little overwrought for a blowhole. But fine, we'll take a peek; yes, that's a marvelous scale model of the blowhole you have there!
The seas were unfortunately calm, but an explosion of water did eventually happen. When a large enough wave moves into the narrow crevice of rock, a low sound (the "Hoo" which gives Hoo-maniya half its name) heralds the coming of a water spout. It's a cool natural phenomenon and must be amazing during monsoon season, when the water can shoot up to fifteen meters into the sky.
Location of Dickwella on our Map
Location of Hoo-maniya on our Map