We arrived in Tangalla with mixed emotions. Now on the southern coast, we were undeniably in the final stretch of our tour through Sri Lanka. There was still a lot to see — the attractions of the country's southern extreme are considerable — but our journey's approaching end was tangible for the first time. Still, we'd only have a few days in Tangalla, a small town which occupies some of the island's most beautiful coastline and offers a number of memorable excursions. No time for moping.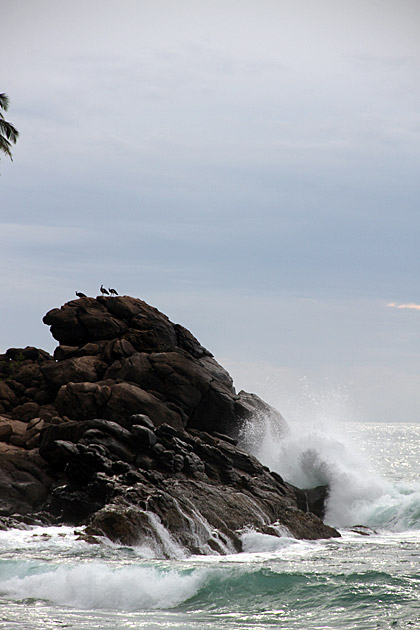 After unpacking, we set right out into the city. The majority of Tangalla's hotels and guesthouses are found outside town, toward the east. Which is fine. The town itself isn't going to win any awards for beauty. A single strip runs through Tangalla, with the usual array of Sri Lankan shops and noisy activity. After our initial exploration, we would venture into town only in search of cheap eats and to get to the bus station.
Tangalla's harbor is probably the only in-town attraction worth a look. An outrageous number of colorful boats clog the port, all of which were unloading stinking fish when we arrived. The fishermen were boisterous sorts, encouraging us to come aboard their ships (doubtless in search of a few extra bucks).
But though the town is forgettable, our time in Tangalla was anything but. Amazing nature, fascinating culture and interesting day trips are within easy reach. Plus, the beaches are beautiful… if difficult to swim at. Perhaps it was the time of year (early April), but the waters were stormy, and attempting to bathe in the powerful waves was terrifying. I mean, exhilarating. No, wait — actually, I do mean terrifying. Our favorite beach-side game became guessing which tourists might brave the sea, placing bets on whether they would survive, and then debating whether we'd jump in to help save them.
Location of Tangalla on our Map
–Great Places to Stay in Tangalle (we chose Nugasewana Eden)