The Temple Town of Kataragama
Our Latest Travel Book: Palermo, Sicily
A major center of Sri Lankan pilgrimage for Hindus, Muslims and Buddhists, Kataragama is a normally sleepy village which completely transforms every evening when a riotous spectacle of color, fire, music and worship gets underway.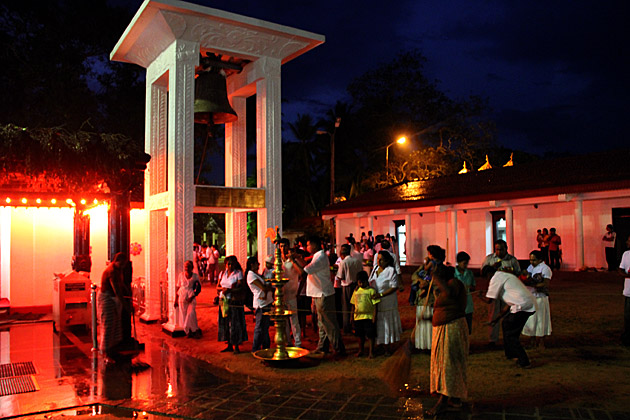 We planned on taking the bus from Ella to Kataragama, but the tuk-tuk driver taking us to the station offered such an unbelievable price for the entire 2.5 hour journey, we couldn't say no. Sampath had a brand new, comfy, large tuk-tuk, which he drove safely and sanely — a rare combination! We talked a lot during the trip. He's a big fan of American wrestling, and forced me to promise that I would get him John Cena's email address (reasoning, I think, that we're both Americans and likely to know each other). Sampath had been a soldier for twelve years, and was the most genial driver we could have hoped for. If you're in Ella and need a tuk-tuk for a long haul, he's worth hunting down.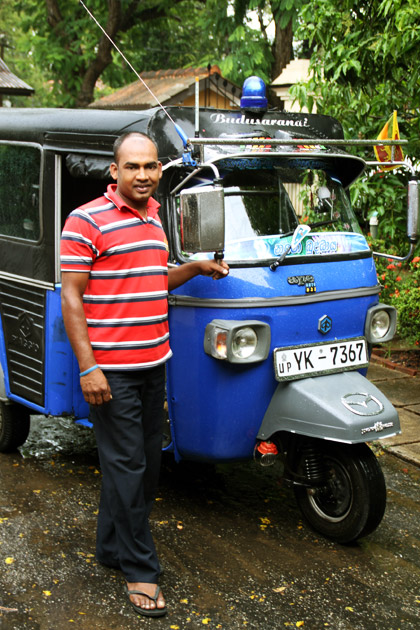 We arrived in Kataragama at 1pm and while Sampath went straight to the temple to pay his respects, we checked into our hotel: the Ceybank Rest. Though intended for Ceybank employees, they also rent rooms to travelers, and we can recommend it. Not only were the rooms cheap, clean and comfortable, but the vegetarian rice & curry buffet dinner was fantastic, and cost just 250 rupees per person.
Kataragama is a strange town, existing almost entirely for the benefit of pilgrims. Most of the town's shops only sell offerings for the gods. I tried to buy a coconut from one of the vendors without realizing it was part of a fruit platter meant for Buddha.
The sacred precinct is large and contains nods to all of Sri Lanka's major religions. We first visited a green mosque and then a small Hindu Kovil dedicated to Shiva. To the north, we found a stupa and a statue of Dutugemunu. The centerpiece of the complex, though, was the Maha Vihara: a set of Buddhist temples in a round enclosure. As the sun disappeared, we joined a crowd gathered around the door of the Kataragama temple and got ready for the puja (the gods' feeding hour). The number of other people wasn't overwhelming, but this was a rainy Monday night, immediately following a holiday weekend. Usually, it's a crush.
Eventually the bells began to ring, and temple doors opened. A parade of pilgrims marched in, presenting plates of fruit to Kataragama. This blue-skinned multi-armed deity is actually Hindu, but has long been worshiped by Buddhists as one of the island's principal guardians. The puja ceremony was a confusing mish-mash of activity, and I had very little idea what was going on around me. Monks bringing pillows to the gods. People consulting a shaman in the Ganesh temple. Coconuts being lit on fire, then smashed against stones. Then, worshipers eating the offering fruits after Kataragama had had his fill. Especially with the light rain and mind-shaking droning of the bells, it was a surreal experience.
I wish we could have timed our visit for one of the island's poya days, because that must be a gathering to behold. But regardless, Kataragama provided a unique look into a fascinating bit of culture.
Sampath the Tuk-Tuk Driver can be contacted here: sampath_wa@yahoo.com