Get Those Sexy Calves of Steel at Mihintale
A few kilometers east of Anuradhapura is the small town of Mihintale, famous as the place that Buddhism was introduced to Sri Lanka. While on a hunt in the woods, the reigning Sinhalese King Tissa encountered a monk named Mahinda, who had been sent to the island by the Indian King Ashoka to spread the faith. Mahinda found a willing convert in King Tissa, and Sri Lankans quickly embraced their ruler's new religion. Ever since, the country's Sinhalese majority has been staunchly, proudly Buddhist.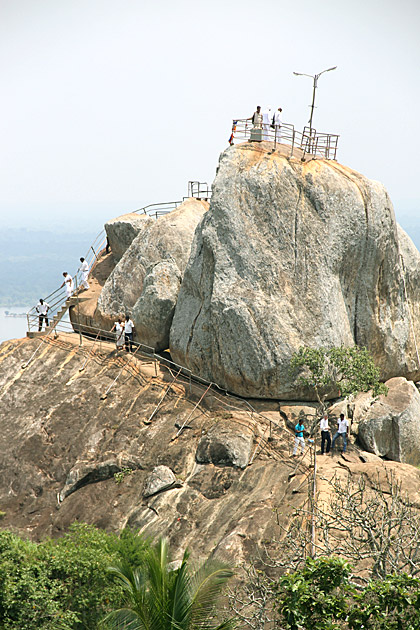 Today, the mountainous site of Mihintale is filled with stupas, ruins, statues and temples dedicated to the glory of the historic encounter between Tissa and Mahinda. It's a wonderful place to visit on a day trip from Anuradhapura but, before leaving, make sure to lace your sneakers up tightly and do some stretching. To see everything Mihintale has to offer, you'll have to climb 1840 stairs. Stop laughing, that's not a joke.
From the bottom of the mountain, the path up looks ominous. Luckily, it's split up rather frequently by cool things to see. After the first fifteen minutes, we found ourselves at the remains of a large stupa called the Kantanka Chetiya. Around the back is a set of caves which can be explored. We spotted giant squirrels here, and watched a family of langurs play in the trees before heading back up the hill.
After climbing hundreds of more stairs, we arrived at the main terrace, which is an active place of worship requiring the removal of our shoes. A large white stupa is the centerpiece, flanked by statues of Tissa and Mahinda. Around the stupa, a number of paths lead to various sites: up to a seated Buddha, then down to the cave where Mahinda slept, then up to a lookout point, then over to a pond where monkeys were swimming. And then we seriously wanted to collapse.
But the path continued on. After recovering our shoes, we climbed yet more stairs to arrive at another stupa, where a monk invited us into an adjacent temple and smilingly urged us to make a contribution. We were exhausted, easy prey. Past this, another awful, endless flight of steps led to Et Vehera, where we found another small, completely ruined stupa and a view which stretched to Anuradhapura. Gleefully, I looked about — yes, we were as high as possible! Not another step remained! My calves were burning, and I laid down for a bit, daydreaming about all the people who'd be fainting at the sight of my newly muscular legs, or shyly approaching to ask if they could but touch my bulging, heroic calves. But I would not let them! They may take pictures, or present offerings, or compose poems to my strength…
Later that night, as I was laying exhausted on the bed, stuffing chips into my mouth and lazily drinking a beer which had mostly slobbered down my chin to form in a fetid pool at the bottom of my neck, I allowed the daydreams of my calf-worshipping acolytes to continue. So what? I think 1840 steps earns a man a little self-delusion.
Location of Mihintale on our Sri Lanka Map