North to Jaffna
Like a feather in Sri Lanka's cap, the Jaffna Peninsula pokes out of the top of the island, pointing towards India. The long, narrow peninsula is separated from the rest of the country in about every way imaginable: culturally, ethnically, religiously, linguistically and geographically.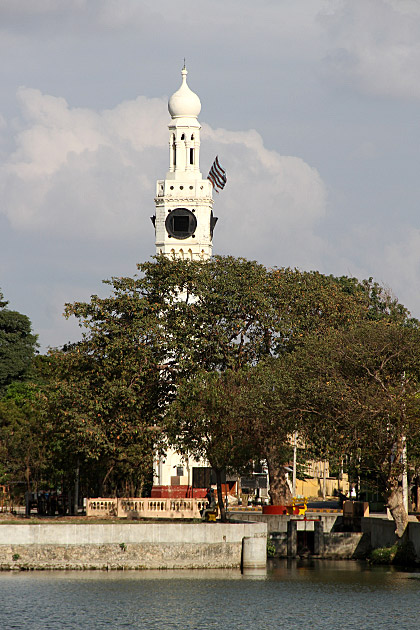 We took the bus from Anuradhapura, sitting in the back row (the only place where 6'6″ Jürgen fit). Six hours of psycho-driving on unconscionably bumpy roads. We spent as much time in the air as seated and, after arriving, I felt like I'd just ridden a bucking bronco for six hours. We're not teenagers anymore, and it took a full day for our bodies to recover from the beating.
Of course, the deplorable state of the road which leads to Jaffna isn't entirely surprising. The Civil War raged for 26 years, only ending in 2009, and ravaged the north of Sri Lanka. The road past Vavuniya (the dusty transit town which serves as the gateway to the north) was like one long construction site, so recovery efforts are underway. But there is a lot to work on, and it won't be done for years.
Due in part to its proximity to India, the peninsula has always been the stronghold of Sri Lanka's Tamil population, and the great majority here are ethnically distinct from the rest of the island. Tamil-only signs and colorful Hindu kovils predominate, as opposed to loopy Sinhalese and serene Buddhist temples. The people, who are still recovering and largely still returning from self-imposed exile, don't speak nearly as much English as in Kandy or Anuradhapura, and things don't run as smoothly here. It would be shocking if they did.
We spent ten full days in Jaffna, and had an experience that was fascinating, frustrating and exciting, all in equal measure. Not too many foreigners get up to the north; the bus ride is difficult, and really only worth it if you can spend an extended amount of time. But with remote islands, bizarre temples, a beautifully arid landscape and its unique atmosphere, so different than the rest of Sri Lanka, there's plenty in Jaffna to occupy weeks.
Location on our Sri Lanka Map
–Hotels in Sri Lanka