The Besieged Fort of Jaffna
In 1618, the Portuguese built an enormous fort in Jaffna, to help protect their hard-won property. Colonial-era forts are fairly common across the world, but Jaffna's must be one of the very few which continued to see action until the late 20th century. Recently re-opened to visitors, it was one of the first things we checked out in Jaffna.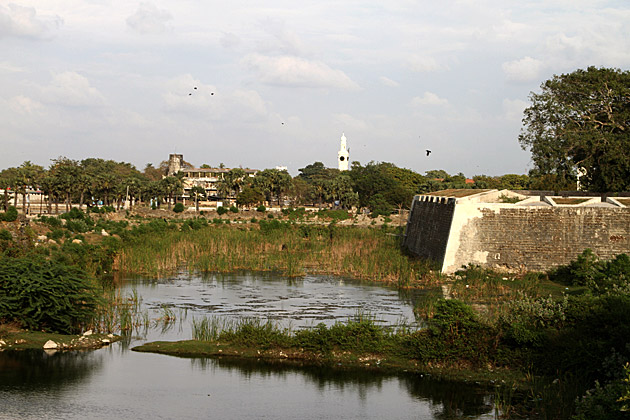 The Portuguese ruled Jaffna until 1658, when the Dutch sailed into town and took over. De Nederlanders expanded the fort and, after a century and half of dominance in northern Sri Lanka, ceded control to the British in 1795. Years after the tumultuous colonial years, the fort was the scene of major battles during the Sri Lankan Civil War. The LTTE controlled it until 1995, when a 50-day siege by the army finally uprooted them. Walking around the fort today, it's immediately obvious how incredible the fight must have been. Almost everything is in ruins.
We were far from alone during our visit to the fort, which has apparently become a popular spot for a Saturday stroll. I'm unsure, though, whether the people visiting were from Jaffna or further afield. Now that the war is over, the peninsula has become a hot tourist zone for Sri Lankans, who hadn't been able to visit the northern section of their country for decades. Perhaps even more than the fort itself, Jürgen and I were big attractions among the visiting families, asked to pose for picture after picture. It was a surreal, humorous touch to what had been a rather sobering day out.
–Right Now #1 Travel Destination in South America