Prince Kassapa had always harbored a secret jealousy towards his half-brother Moggallana. Upon the demise of their father, King Dhatusena, the throne would surely pass to Moggallana, whose mother was the Royal Consort. Kassapa, on the other hand, had been born of a common concubine. But he was not the sort of youth to resign himself to his fate. "No", he told himself in the palace at Anuradhapura one dark evening in 473 AD. "No, the throne must be mine"!
And so it came to pass. Kassapa secretly gathered the support of the King's General, and then murdered his father by burying him alive. The next move was simple: dispose of the rightful heir. But Prince Moggallana, aware of the danger to his life, had fled with his men to Southern India, leaving the Kingdom of Anuradhapura in the hands of Kassapa.
Like most conspiratorial usurpers, Kassapa was a paranoid ruler who lived in constant fear of his brother's inevitable return. He worried about low-lying Anuradhapura's lack of natural defenses and resolved to move his royal city to a more secure place. A place which would be safe, even were Moggallana to return with thousands of men and hundreds of elephants. Kassapa found such a place 50 kilometers to the south, on the top of Sigiriya Rock.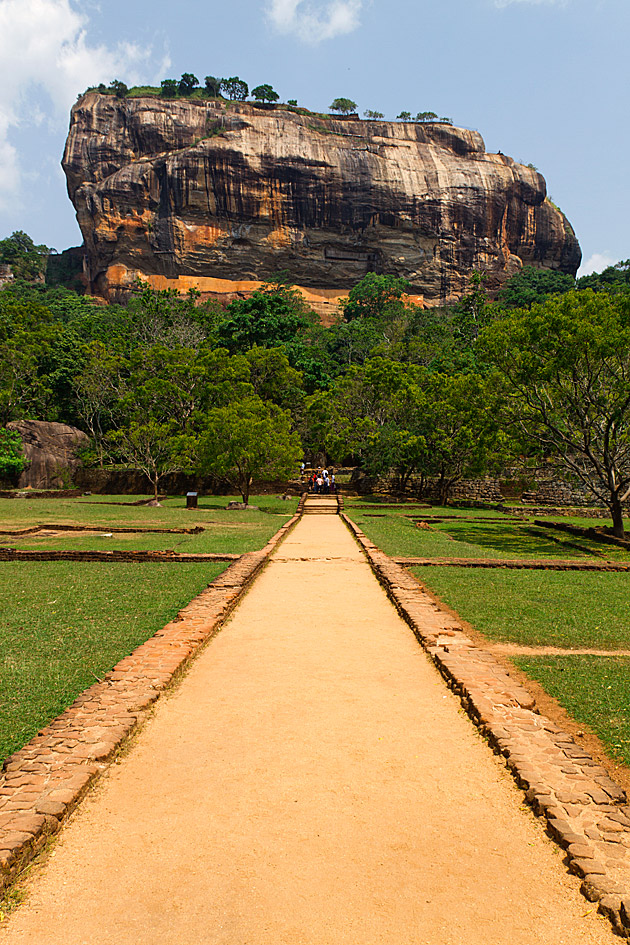 Construction on the King's new home lasted seven years. Stairs were cut into the rock, whose face raises straight up for over a thousand feet, and the materials required for his royal palace were brought up piece by piece. From the top of Sigiriya, King Kassapa enjoyed a commanding view. In front of the rock, a breathtaking pleasure garden was installed, while his loyal subjects settled the land immediately behind. Here, from the top of his impregnable fortress, he waited for his brother's return. "The Rightful King", he sneered. He must return!
Moggallana didn't keep Kassapa waiting for long. In 491, the legitimate heir to the throne returned from India, and strode into sight of Sigiriya Rock. Despite the effort it had taken to construct a palace safe from attack, Kassapa mustered his courage and, atop his war elephant, led his men into battle.
Unfortunately for him, Moggallana was a clever tactician. His men had softened the ground which the defending army would be crossing and, when Kassapa's elephant reached the unsteady, muddy earth, it hesitated and began to back up. The King's men saw him backpedaling and assumed that he had lost his nerve. They retreated for the safety of the rock, and left Kassapa alone. Seeing that his fate was sealed, the King dismounted his elephant, raised his sword, and brought it down into his own belly.
Sigiriya was the capital of Sri Lanka for fourteen years.