Sri Lanka's most iconic paintings are the Sigiriya Damsels, found halfway up the Lion Rock. When they were originally painted in the 5th century, around 500 naked ladies adorned the wall in a massive mural which spanned 450 feet in length and 130 in height. Only twenty-one damsels have survived into the modern day, though the passage of over 1500 years makes the survival of anything a minor miracle.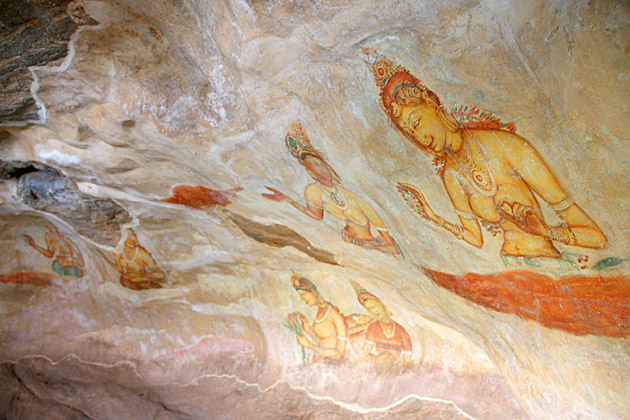 It's funny to think about tourism in ancient days, but Sigiriya Rock has been a big draw for travelers since at least the 8th century. Although we couldn't make anything out, the Mirror Wall is apparently full of timeworn poems lauding the damsels' beauty, etched into the stone by early admirers. Others would visit, though, with less noble intentions. Conservative monks outraged by the nudity removed everything they could reach, and vandals destroyed a big section of the mural in 1967.
That these maidens might inspire poems to their beauty comes as no surprise. With lithe bodies, warm, smiling faces and large, supple breasts, the damsels represent idealized versions of a variety of ethnicities. The guy working was more than happy to point out "China Lady", "Africa Lady" and "Sri Lanka Lady". And one of the nymphs should be well-known to anyone who's visited Sri Lanka, whether or not they've toured Sigiriya. She appears on the country's 2000 rupee banknote.
The damsels were initially thought to depict King Kassapa's consorts, there to accompany him during the long ascent to his castle. However, historians now agree that they are more likely celestial nymphs. The women are only painted from the waist up, torsos emerging god-like from clouds. Some of them sport three arms or three breasts (though, these might have simply been mistakes during the painting).
Goddesses, consorts, or whatever the women in the paintings are meant to represent, they're among the most amazing works of ancient art we've seen, and almost by themselves worth the trip to Sigiriya.
–Search For Savannah on Amazon!