Kandy's International Museum of World Buddhism
Nearby the Temple of the Tooth is the International Museum of World Buddhism. Hosted in the former High Court building, this comprehensive study of Buddhism throughout Asia only opened in May, 2011, and has rooms dedicated to sixteen nations, from China to the Maldives.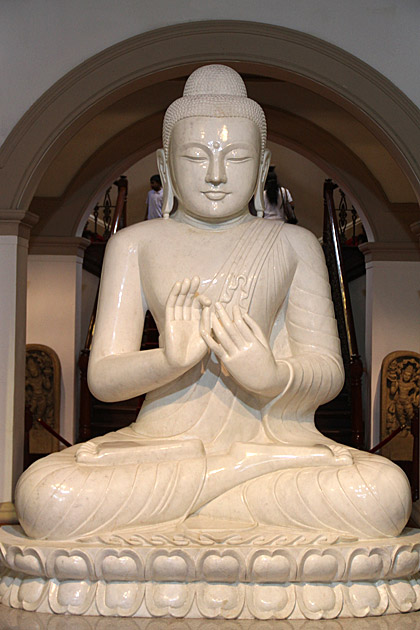 As soon as we entered the museum, a helpful guide attached himself to us. Our intention had been to quickly skip through the rooms and be on our way — cameras were forbidden, and Jürgen has no interest in sights he can't photograph. Besides, we had just finished a couple hours walking around the Temple of the Tooth, and were fairly exhausted. But our guide was having none of it, and led us on a long tour through the subtle variances in Buddhism throughout the world.
What were were supposed to say? "Sorry, bud, but we're not interested in your enthusiastic, free tour of the fascinating new museum celebrating your religion. We'd rather go sit down and drink a cold beer." No, we affixed smiles onto our faces, put phrases like "Ah" and "Interesting" on an endless playback loop, and followed him for nearly an hour.
Regardless of our poor attitudes, the museum is really fantastic. Recreations of famous temples, from Angkor Wat to Java's amazing Borobudur, joined gifts of relics, paintings and Buddha statues from nations like Laos and Japan. It was funny how Buddha's facial features change to match the various ethnicities of the countries who worship him. The objects on display where almost uniformly interesting, from ancient scrolls to strange musical instruments, and despite ourselves, we really enjoyed the tour.
If you have any interest at all in Buddhism, this museum provides one highlight after another. And the guys working there are great; helpful and eager to answer any questions. Just make sure you're fully rested and ready to learn, before stepping inside!