Sri Lankan Wood Working at Rajanima Craft
During our weeks in Kandy, we passed by the Rajanima Craft shop a number of times and finally decided to visit on our second-to-last day in the city. One of the guys working there was happy to take some time out, show us around the shop and explain a little about the craft.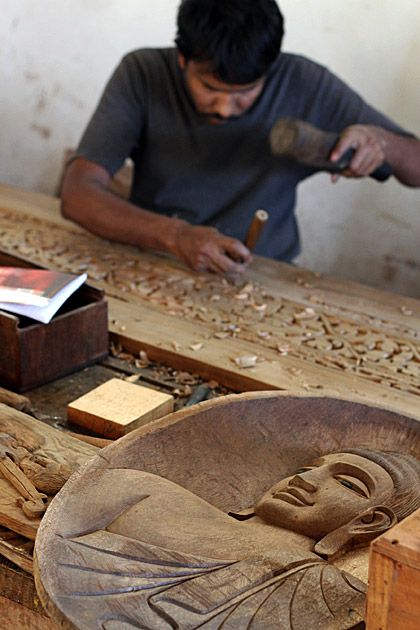 About 25 guys work in the shop, all of them educated in the best way possible for this kind of job — by their fathers, who learnt from their fathers, who learnt from theirs. It's a family affair and, as we watched them whittling away at what would soon be an elephant, or hammering on an intricate latticework, you could tell that the craft was in their blood. When you've spent your childhood watching your dad do it, then grabbed a chisel as soon as you were old enough to grip, you're probably going to be pretty talented.
We were introduced to the ten types of wood used in the shop. Native woods with strange names like Mara, Kaduru, Sapu and Milla. Coconut wood, which has lovely dark and light fibers and makes beautifully patterned bowls. And the amazing rainbow wood, whose shavings can be combined with substances such as boiling water or chalk, stirred with a rod of iron, or just left in the sun to create a wide array of colors, which are then used to naturally paint the sculptures.
After we had watched the guys work for awhile, we went into the workshop's basement store. An incredible collection of wood-worked crafts were on sale here, including more wooden elephants than the world could possibly need. Food and drinking water may be scarce, but Rajanima Craft has ensured that humanity will never want for wooden elephants.
All very cool, and we had a great time during our visit. If you're in the market for some quality hand-crafted wooden furniture or decorations, or just want to take an inside look at one of Sri Lanka's favorite exports, check out Rajanima Craft while you're in town.