The Udawattakele Sanctuary
The small, densely-forested Udawattakele Sanctuary is home to a huge variety of plants and animals, and offers a number of long, secluded paths for exploration. During the morning we spent there, we felt completely alone, almost frighteningly so. Amazing, considering the fact that Uduwattakele is basically in the middle of Kandy.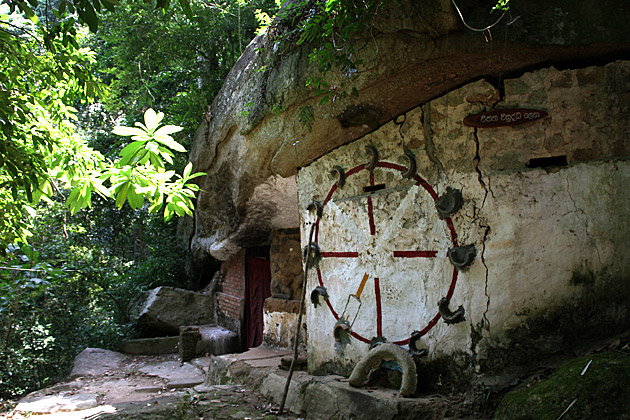 The Sanctuary's entrance is just a couple hundred meters past the Temple of the Tooth. Tickets cost around $6 for foreigners, but there's a lot to see and you could spend hours on the various tracks. We chose a path which would bring us past cave temples and deep into the jungle.
Udawattakele is full of life. Huge trees block out the sun almost entirely, and are entwined by giant creeping vines. With over 80 types of birds, including endemic and threatened species, the park is famous as a bird-watcher's paradise. Most of the mammals which inhabit the woods are nocturnal; fine by us, since I wasn't eager to run into a wild boar or greater bandicoot rat. We did, however, see monkeys and a snake.
We had followed a path down the side of a hill overgrown with jungle shrubbery and spiderwebs to a cave sanctuary hollowed out of the stone. A quiet sense of evil pervaded the place, made worse by a creepy collection of art — the legs of a reclining Buddha posing without the rest of the body, an elephant molded into the wall peering out with one great white eye, and a disturbing sculpture of a starved human corpse abandoned half-done on the ground. A curtain hung over the entrance to the sanctuary and, after calling out to see if anyone was home, I steeled my nerves and swung it open. The only thing I saw was a small serpent retreating into the blackness.
Udawattakele isn't just a sanctuary for nature, but also for the religious. A number of hermitages dot the grounds, and the cave sanctuary we found was built for crazy enlightened people who've decided to live on their own in the woods. I'm not sure anyone lives there now, but it's certainly possible. We hurriedly got back onto the main path, before the monk could return home and invite us in for a cup of rice and snake meat.
If the noise and congestion of Kandy are getting to you, Udawattakele is a great place to escape and let your mind unwind. The fact that an area of such wild, pristine nature exists within the country's second-biggest city is incredible.