The Kandy Garrison Cemetery
Budget Places To Stay in Kandy
Tucked just behind the Temple of the Tooth is an odd relic from the kingdom's colonial days. The Kandy Garrison Cemetery holds the remains of about 150 British souls, who were buried far from home in the early 19th century. The weathered tombstones and neatly-kept grounds make for an atmospheric escape from the throngs of people at the temple.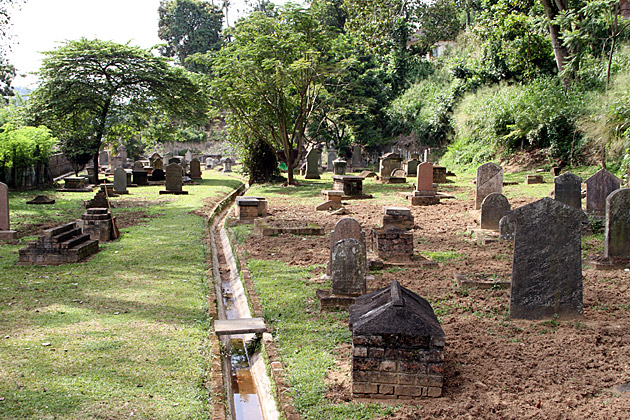 Walking around the graves and reading the names and ages of the people interred within, it's impossible not to imagine their lives. Most of the Brits here died young, victims of malaria, war or cholera. 23 years of life seemed to be about the average; I saw only one man, a doctor, who made it past 50. It was mostly soldiers, but there were infants and women as well — I kept picturing tearful goodbye scenes in London or Bristol, as a young girl says goodbye to her family for distant Ceylon, where she would die months later.
A very beautiful, evocative cemetery. It gave me the idea that every tombstone should have a little notebook attached to it, so you can learn about the life of whoever was buried underneath. That's a good idea in general and, if I'm ever dictator of the world, I'll implement it. In Kandy's Garrison Cemetery, it would make for especially interesting reading.
Location on our Sri Lanka Map
–Download Our Travel Books Here