Kandyan Dance at the YMBA
Kandyan Dance, an exuberant combination of drumming, costumes and athletic dancing, is the most famous cultural product of Sri Lanka. A few places in Kandy put on a daily show, and we decided to check out the performance at the YMBA. Yep, that stands for "Young Men's Buddhist Association" — and good luck trying to spell it out with your arms.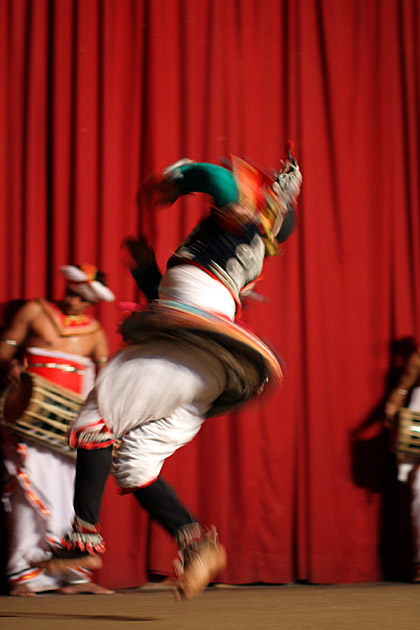 We were lucky to get decent seats, because the first fifteen rows had been cordoned off for giant groups of tourists on package holidays. Okay, fine: it wasn't exactly luck. For a small consideration, the guy selling tickets agreed to get us up front. Bribery is swell. Every chair in the small, sticky, mosquito-infested hall was filled with a white-faced European fresh off the bus. An authentic cultural experience, this wasn't. Once the incredible show started, though, any annoyance I'd been feeling disappeared.
The style of dance particular to Kandy was actually brought to the region by Indian shamans, who used it to appease the god Kohomba and help cure a mysterious illness under which the Kandyan King had been suffering. After the king's miraculous recovery, the style caught on, and is today considered the national dance of Sri Lanka.
We were entranced by the performance from the moment the drumming began until the climactic finale. The costumes were beautiful, the drumming skillful, and the dancing far more exciting than I'd expected. The show, which lasted about an hour, included ten different styles. Not all of them were strictly Kandyan Dance — one of my favorites, the thelme dance, came from the low countries of Sri Lanka. This involved dervish-like whirling, only much faster and more intense.
There was plate-spinning and acrobatics and ladies dressed like peacocks, but the highlight was the Ves Dance, which came towards the end of the show. The drumming built slowly in intensity and the dancers wore headgear with long tassels, which they swung about wildly.
I'm happy we decided to ignore our inner cynics and check out a show, especially since the tickets were only about $5 apiece. Well worth your time if you happen to be in Kandy.
Location of the YMDA on our Map