Sri Lanka's most important temple is home to its most sacred relic: a tooth of the Buddha himself. But when you visit, don't expect the chance to inspect the holy man's dental work. The tooth is kept sealed tightly behind multiple bejeweled doors and under the lid of a dagoba-shaped golden shrine. Luckily, there's plenty more to see in the temple's enormous complex, and a visit can easily eat up hours.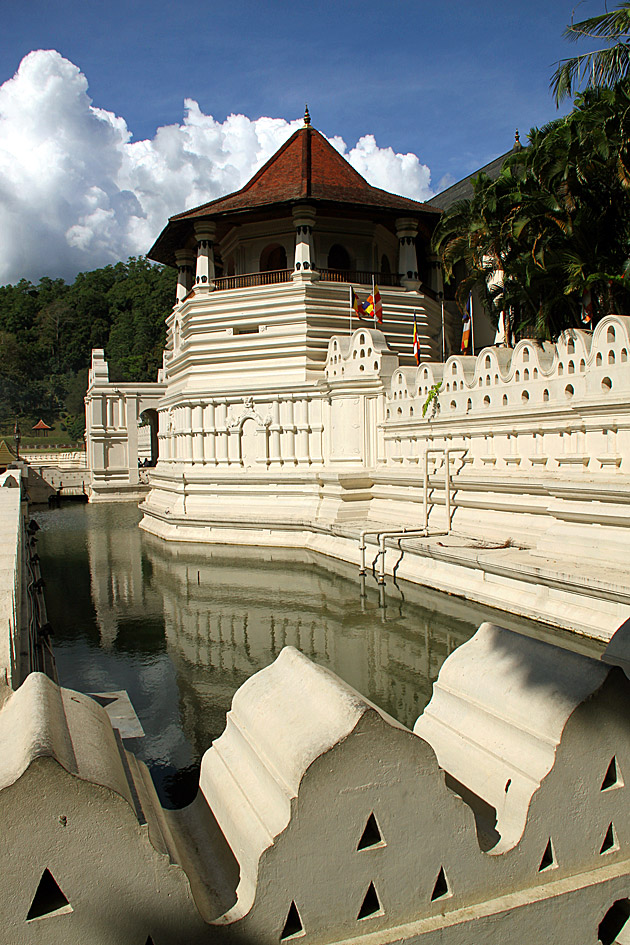 It was a poya day when we decided to check out the Temple of the Tooth (known to Sri Lankans as Sri Dalada Maligawa). Poyas are the full-moon days, public holidays in Sri Lanka, so we suspected that there might be a lot of activity at the temple. These suspicions were borne out. Thousands of faithful worshipers were packed into the place, bearing flowers and gifts of food for the insatiable tooth of Buddha. In the temple's lower hall, drumming had begun and a heavy layer incense successfully offset the musty odors which usually accompany a mass gathering of humanity.
Getting into the temple complex isn't a cakewalk. In 1998, the LTTE exploded a truck bomb which destroyed much of the main shrine and security has been tight ever since. Entry costs foreigners a pretty penny (about $10 a head) and you can't wear knee-length shorts. So, before we could even get inside, we had to run to the ATM and rent a couple sarongs. Tip: don't rent sarongs! You can buy them at nearby fabric stores for nearly the same price, and you might need them another day.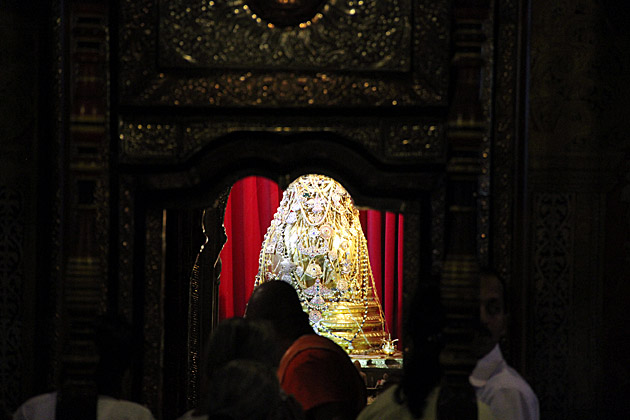 A number of buildings and shrines are found past the security gates, most of which don't require a paid entrance. The main shrine of the Temple of the Tooth was constructed in 1600, shortly after the arrival of the Buddha's Tooth in Kandy, but it's been torn down and rebuilt a number of times throughout its history. The golden roof and a gold-plated ceiling in the drummer's hall, for example, date from just 1987.
Buddha's tooth is an item of supreme holiness. Can you imagine the pilgrimages if some Catholic church had one of Jesus' chompers? Of course, the authenticity of the tooth remains questionable. Though it's now kept strictly out-of-sight, it was described in 1914 as "at least three inches long" by writer Bella Sydney Woolf, and Portuguese invaders claimed to have destroyed it in the 16th century.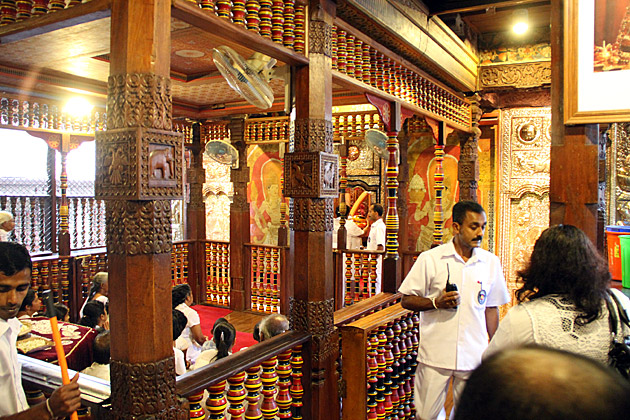 But facts and reason are always of questionable value when dealing with matters of faith, and the important thing is that millions of people believe in the tooth's legitimacy. Wars have been fought over its possession; in India, it was believed that whoever owned it would rule the land (one tooth to rule them all?) The tooth came to Sri Lanka sometime in the 4th century, when, to protect it against an imminent invasion, King Guhaseeva of Kalinga (Eastern India) sent his daughter to the island with it hidden in her hairpiece.
If you go, try and time your visit with one of the pujas, which are the hours of worship. Currently, those are at 5:30, 9:30 and 18:30. The atmosphere is far more romantic when drums are being pounded, and prayers are being chanted.