Jaffna Causeway and Chatty Beach
A string of small islands stretch out to the west of Jaffna, pointing the way to India, mostly connected to the mainland by roads built up out of the shallow water. One day, we rented rickety old bikes and rode out on the causeway which begins near the fort to the first of the islands.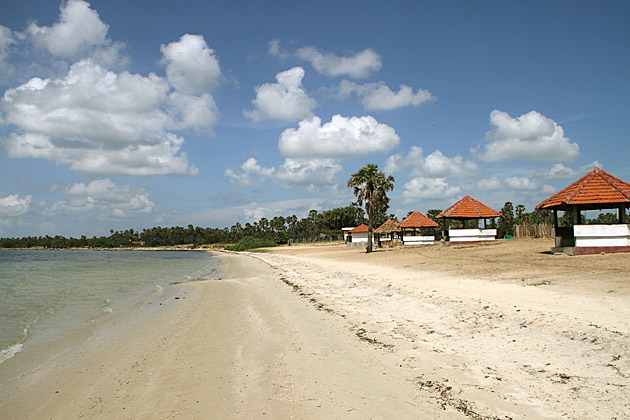 The road to Kayts is a lot longer than it first appears, but the scenery is so gorgeous that we didn't mind too much. Along the way, fishermen worked on their nets in the shallow waters and graceful white storks provided constant company.
Once we arrived at Kayts, we began asking about Chatty Beach. "Oh, not far" the soldiers stationed along the road would say (the islands, like the rest of Jaffna, maintain a heavy military presence). "Just keep straight". So straight, we went. And went, and went. Eight kilometers later, we finally saw a sign, and soon afterward came upon a beautiful beach facing the south sea. We were the only people around, and had the beach to ourselves. The water, we had to share with an unsettling number of jellyfish.
So, thirteen kilometers to reach a lovely, secluded beach. Not bad; nothing to complain about… But on the ride back, we had to push against an unbelievable headwind. Suddenly, the rickety charm of our bikes wasn't so charming at all. By the time we finally made it back to Jaffna, we were exhausted, sunburned and dehydrated, and any sort of relaxation we'd stored up at the beach was long gone.
Location of Chatty Beach on our Map