The large, windswept island of Delft sits twenty miles off the mainland; about as far away from a city as you can get in densely-packed Sri Lanka. After an 80-minute bus ride to Kurikadduwan, we took a ferry to the island, and almost immediately upon disembarking from the ship, Jürgen realized with a cry that his camera battery was out of juice. I instinctively started backing away from him. A Jürgen who can't take pictures at a wild, remote island is a dangerous, unpredictable Jürgen.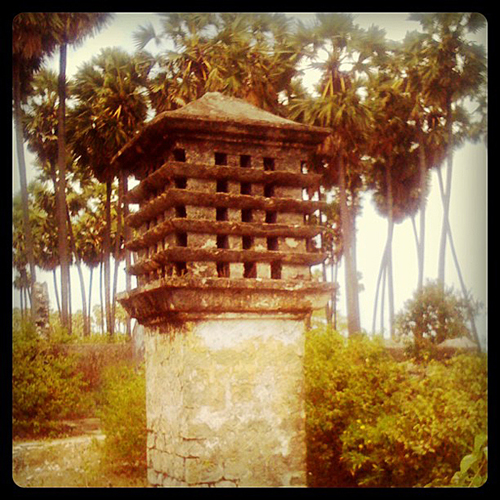 What could we do, but push forward with our day?! The next ferry home didn't leave for four hours, so we hired a tuk-tuk to take us on a tour of the island's highlights. Jürgen was forced to make peace with the only backup camera we had: a four-year-old iPhone. The rest of the day, I'd be listening to sarcastic gripes like, "I'm going to win Photographer of the Year with this photo! National Geographic, here I come!"
Anyway. Delft was gorgeous despite our inability to properly photograph it. The dry, windswept landscape is home to a group of wild ponies, a strong military presence, and a human population of about 5000. Our tour started at the Old Portuguese Fort, built entirely from corals fished out of the ocean. To get there, we followed our driver into the back yard of the island's hospital, and were free to climb to the top of the ancient ruins.
Next up was an old, ruined stupa. Not too exciting, but the long drive required to reach it impressed upon us the size of the island. Then, we visited the Pigeon House which… was a pigeon house, built by the Portuguese; pigeons were apparently the main method of communication back then. Luckily, the next stop on our tour was more interesting. An immense baobab tree in the middle of the island. Delft is the only spot in Sri Lanka where you can find these trees, which the Portuguese brought over from Africa. Amazing, and probably the highlight of our tour.
No, the highlight was the beach. We spent about an hour on a lonely patch of sand, taking in the sun and bathing in the lukewarm water of the Indian Ocean. It was so relaxing that Jürgen even forgot about the empty battery. Refreshed, we headed back to the ferry (which was free, by the way) and made our way home. Delft Island is one of the more difficult spots in Sri Lanka to reach, but there are plenty of reasons to make the trip. Just please, charge your camera battery.