After our time in Jaffna, we headed southeast to the capital of Sri Lanka's Eastern Province: Trincomalee. We'd spend six nights in Trinco (as it's almost always referred to), enjoying its beautiful beaches and fascinating city life.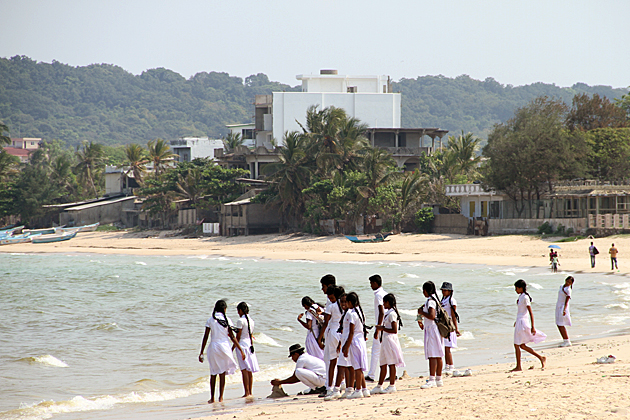 Trinco is more of an ethnic melting pot than any other city in Sri Lanka, except perhaps Colombo. Its population is split almost equally between Sinhalese, Tamils and Muslims: a mixture which proved explosive during the Civil War, when the groups viciously turned on each other. Not only was Trinco among the most war-torn of Sri Lanka's cities, but it was forced to host thousands of refugees who had fled Jaffna.
Downtown Trinco occupies a peninsula which extends between two natural harbors. The massive Kottiyar Bay is one of the world's best deep-water ports, and has made the city an important center of commerce since the days of Marco Polo, who once landed here. We walked from the outer to the inner harbor, along streets buzzing with activity, chatting with the curious locals who ran out to greet us. Thanks to its beaches, post-war Trinco is winning back tourism more quickly than Jaffna, but it's still a city where foreign faces are a novelty.
Just north of downtown, the beaches of Uppuveli and Nilaveli are where most tourists will spend the night: long white stretches of sand with a wide range of hotels to choose from and few other visitors (though, it was low season when we were there and gets crowded between June and September). Add in some of Sri Lanka's best snorkeling and whale watching, and a manageable collection of unique things to see outside the city limits, and Trinco starts to shape up as one of the country's best destinations.