Anuradhapura – The Ancient Capital of Sri Lanka
For nearly ten centuries, Anuradhapura was the capital of Sri Lanka and its most important city. Found in the steamy, low-lying North Central Province, Anuradhapura has long lost its political significance, but remains the spiritual capital of the island, and is still one of the world's major Buddhist pilgrimage sites.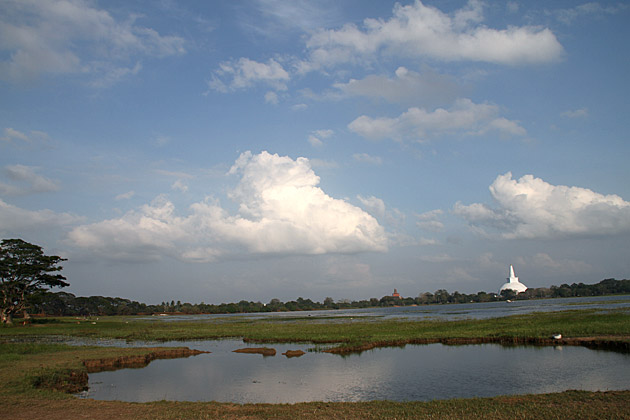 Excavations date the settling of the region to the 10th century BC, though the city wasn't officially established until 377 BC, after King Pandukabhaya became the island's first truly Sri Lankan ruler. When Buddhism appeared on the island a couple centuries later, the capital embraced it enthusiastically and quickly became one of Asia's most important centers of Buddhist learning.
The city flourished for centuries, boasting some of the world's largest buildings and most advanced infrastructure. The complicated irrigation schemes of the Sinhalese were unmatched anywhere, and the mammoth dagobas built by various kings were surpassed in size and scale only by Egypt's pyramids. But in the flat lowlands of Sri Lanka, Anuradhapura proved difficult to defend. After a long history of fighting off invasions from India, the city was completely abandoned in 993 AD.
Abandoned and forgotten for six hundred years. The jungle grew up around the monasteries and reclaimed dominion over Anuradhapura. It wasn't until the arrival of the British that the ancient city was rediscovered. What a sight that must have been! The Brits hacked away at the jungle's encroachment and re-established the town. Soon, Anuradhapura was resettled by a native population thrilled to have recovered an important part of their heritage.
Today's Anuradhapura is split into two clearly defined sections. The New Town, to the east, contains all the commerce and hubbub of daily life, while the Sacred City, to the west, is home to the ancient monasteries, extensive ruins, and the famous stupas and temples, which are once again bustling with the activity of the faithful.
We'd given ourselves a long time to explore Anuradhapura, which was important since the Sacred City is unfathomably large. There's just no way to see everything that the ancient capital offers on a short schedule.
Anuradhapura on our Sri Lanka Map