Fun in the Sun at Keerimalai
Set on the northern coast of the Jaffna Peninsula is one of the more entertaining places of worship we've ever visited. The Keerimalai Kovil, which overlooks the Palk Strait separating Sri Lanka from India, doubles as a popular pool and hang-out zone for people taking a break from their regular lives. My church's attempts to combine fun and worship were like, Amy Grant Dance Party. Hindus have us beat.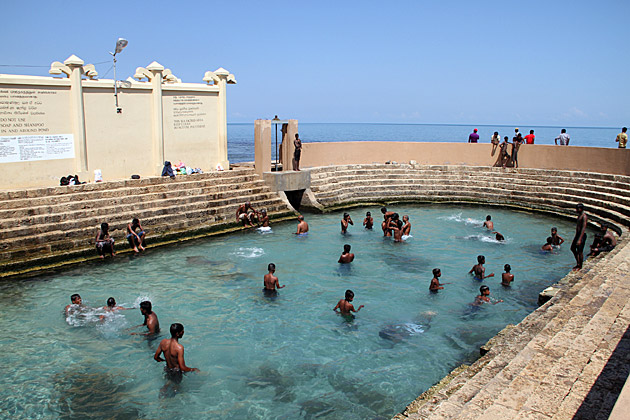 The large sacred pool is a part of the temple grounds, and the faithful can either tranquilly submerge themselves in its blessed water, or (more likely), get their friends to hoist them into the air for an attempted back flip. Or, sneak up on some unsuspecting victim and body slam him into the water. Or, jump into the water from the walls. Cannonballs, diving, splashing and a lot of laughing. And a total disregard of signs reminding people to remain quiet and respectful.
We were just spectators at the pool, much to the dismay of the kids urging us to jump in. After talking to a few people eager to show off their English, we walked down along the coast and sat for awhile looking out over the ocean. Keerimalai has an incredible setting, and we could have stayed here for hours.
Inland, across the road, the main temple of Keermalai was lying in wait. Like approximately 99.4% of the buildings in Jaffna, the temple was under construction, but it was open for business. A ceremony was already underway when we ventured inside and we watched the proceedings for awhile, underneath the curious, distrustful gaze of a little girl.
The temple and pool, let alone the spectacular seaside setting, provide more than enough reason to venture the extreme northern coast of the peninsula. A bus connects Keerimalai to Jaffna, albeit on a round-about route which makes no sense on the map and requires at least an hour each way.
Location of Keerimalai on our Map
–Please Subscribe To Our RSS Feed