Fort Frederick and Swami Rock
A mighty promontory jutting out into the Indian Ocean, Swami Rock divides Trincomalee's Back Bay from the Dutch Bay. It's an impressive natural landmark and has always played an important role in the city's affairs. Before the arrival of the Europeans, Swami Rock was home to the world-famous Temple of the Thousand Pillars. Currently, it's occupied by the massive Fort Frederick.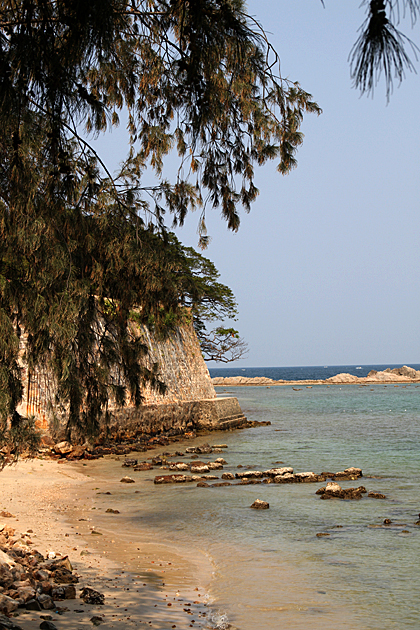 The Portuguese were the first colonial power to exert control over Sri Lanka, and the island couldn't have found a more callous master. They razed temples and kovils wherever they could, erecting Catholic churches in their stead. Tragically, the Temple of the Thousand Pillars (Koneswaram Temple) was among the destroyed. This amazing building, which had led early explorers to pronounce Trinco the "Rome of the Orient", was literally pushed off the rock and into the ocean below. Thanks, Portugal.
In 1628, the fort was erected. Control soon passed into Dutch, who expanded the construction and provided it with its current name. The French won it from the Dutch, and the British from them. Fort Frederick remained a British garrison until 1948, when Sri Lanka gained independence. It's still militarily active today, although open to tourists (and deer).
A visit to the fort was the first thing we did in Trinco, and we really enjoyed it. The Koneswaram Temple has been rebuilt, though the new construction is nowhere near as grand as the original. Luckily, the outstanding views over Trinco from the top of Swami Rock were something that not even the Portuguese could destroy. One tree, clinging to the cliff face, is burdened underneath flags and a huge number of light baskets tied onto the branches by couples hoping to get pregnant.
Even if you're just in Trinco for the beaches, a visit to the Fort should definitely make its way onto your itinerary. We walked, but you can also hire a tuk-tuk to take you to the top.
–Book Your Trincomalee Hotel Here