A gorgeous stretch of beach just a few kilometers north of the city, Uppaveli was our home during the week we spent in Trincomalee. A chain of hotels lines the coast, but we had the beach almost entirely to ourselves. After trips to action-packed cities like Kandy and Jaffna, a little sun, sand and solitude was exactly what we needed.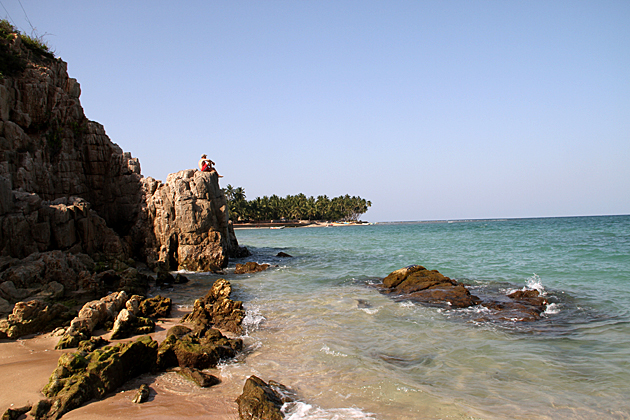 We stayed in the Aqua Inns, which has just recently come under the management of Fernando and Jo. They were still in the process of sprucing the place up, but our room was comfortable, clean and had an incredible view of the ocean (ask for room 115 for the view). The best part of the Aqua Inns is Fernando's Bar. A stilted beach hut with cozy furniture and a breeze, this was my unofficial office during the week. And it was here that we spent every evening, with a cold beer or arrack.
There's not much to Uppaveli Beach apart from the warm water, fine sand, and utter natural beauty, but what else do you need? We walked one day towards the north, where a small river empties out into the sea. After crossing the river, we arrived at a small rock outcrop with a beach made of coral and, just past that, a neat Hindu temple. That was a fun twenty-minute hike, and afterwards we felt another beer at the bar was totally justified.
Location of the Aqua Inns our Map