Though the crazy monsoon weather we experienced during our two weeks in Galle soured our moods and ruined planned excursions, it did give us the chance to explore the Fort neighborhood in full — particularly its restaurants, cafes and bars. Here were some of our favorite spots during our time there.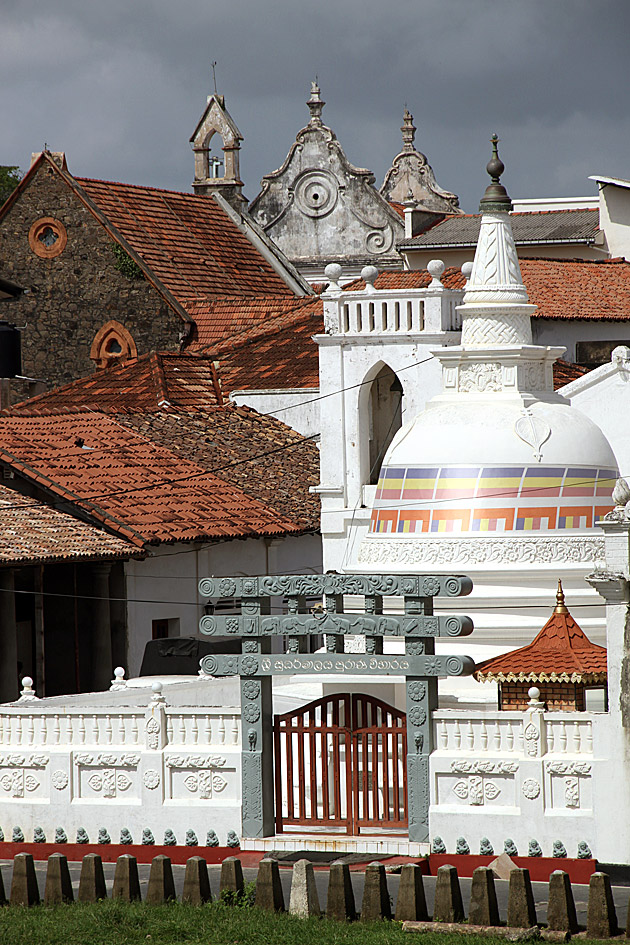 For Food: Indian Hut – Yes, they may have brazenly ripped off the name and logo of Pizza Hut, but I hate that restaurant, so this counts in their favor. You're not going to find a cheaper or tastier meal anywhere in the otherwise overpriced fort. With its great upstairs location looking out over the southern ramparts, a menu packed with Indian and Chinese favorites, and down-to-earth prices, we found ourselves at Indian Hut over and over again. The main branch just outside the city requires a 250 rupee tuk-tuk ride, but is bigger and cozier.
For Working: The Heritage Cafe – A number of cafes in Galle Fort offer wi-fi, but the only place where I found it to be reasonably stable was at the Heritage Cafe, on the corner of Pedlar and Lighthouse. Heritage opened just six months ago in the Fort's old bakery, and offers good coffee and comfortable tables nicely secluded from the hustle of town. Plus, service is speedy and the staff is uniformly nice.
For the Sunset: Fort Dew – One of the only places in town where you can get a reasonably-priced beer, and blessed with the best western view in Fort. And the most amazing thing is that it's nearly always empty. Just go up to the top floor around 6pm and take a seat for the show.
For Sleeping: Sea Green Hotel – We couldn't have been happier with our choice of accommodation in Fort. The rooms are nicely priced, clean, comfortable and air-conditioned. The small staff is friendly and willing to assist in any request. There's a roof deck and a mid-level veranda with views that rival Fort Dew's, and an adjoining restaurant with decently-priced, yummy food. Link: Seagreen Guesthouse Galle
For Cheap Eats: The Kiosk in Court Square – When you just want a lunchtime rotti, you won't find a better one than at the kiosk just across from the Magistrate Court. It's extremely popular with locals and our rottis were always freshly prepared. Grab a couple, then head onto the ramparts for a great lunch.
Enjoy our final images of both the new town of Galle and its Fort — a cool, and very individual corner of Sri Lanka.