The Mulkirigala Rock Temple
Twenty kilometers north of Tangalla lies the large rock of Mulkirigala, reminiscent in shape to Sigiriya. The rock houses an impressive series of cave temples dating from the third century, similar to those of Dambulla. A mix between Sri Lanka's two most famous sites, Mulkirigala sounded like a winner.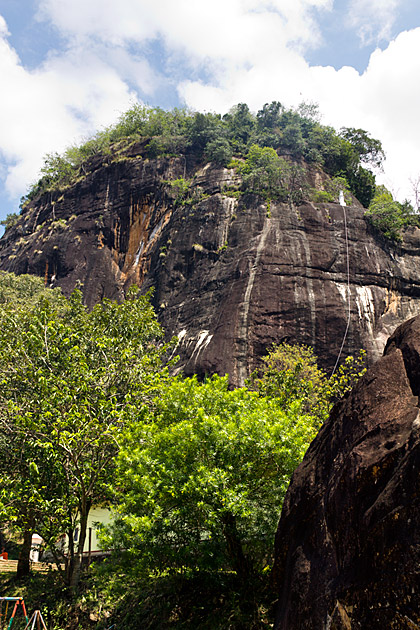 It was the sleepy Sunday following the Sri Lankan New Year festivities, and public transport was impossible, so we hired a tuk-tuk to reach the temple. After a flat landscape of fields, forests and ponds, the sudden appearance of Mulkirigala Rock, sticking 200 meters into the air, came as a surprise. We paid our entrance fees, removed our shoes and steeled ourselves for what looked like a long hike to the top. But a lot of Sinhalese families were there, taking advantage of the holiday, and where 70-year-old barefoot grannies can go, so can we!
Mercifully, there were a few interludes during the climb — terraces which held small temples, sleeping Buddhas, pools of water, and sweeping views over the surrounding countryside. On the biggest terrace was a set of caves which included the Raja Mahavihara, notable for its Dutch tiles and antique wooden chest. It was here that a British archaeologist discovered the ancient manuscripts of the Mahavamsa: the great chronicle of ancient Sri Lanka.
At the top of the hill, our otherwise pleasant day trip was ruined by two kids who were determined to pester us. We were the only foreigners on the rock, and they would not leave us alone, tugging at our arms and following us everywhere, despite (perhaps because of) our increasing frustration. I am slow to anger, but eventually lost my cool and yelled at them. It didn't help. "Money? Rupee? Ten Rupee! Bon-Bon!" They continued to follow, grabbing us and pleading for things. When we gave up and decided to leave, they followed us down the stairs! I scolded them, like you would a stubborn dog following you home. "No! Go away! Bad! Bad children!" Nothing worked, not even appealing to other Sri Lankans who were bemusedly watching the drama.
Even though it was a tough ending, we had a good time at Mulkirigala. The site isn't nearly as impressive as either Sigiriya or Dambulla, but that's unfair. We don't compare every movie against Citizen Kane and say, "Not as good, so not gonna watch it!" Mulkirigala is no Sigiriya, but it's still worth a visit.