The Cave Temples of Dambulla
An extensive complex of ancient cave temples is found in Dambulla, a bustling town just twelve kilometers from Sigiriya. It's awfully convenient that two of Sri Lanka's best cultural sites are within such easy access of each other, and we visited one right after the other. The Dambulla Temple was constructed in the 1st century BC and inscribed as a UNESCO World Heritage Site in 1991.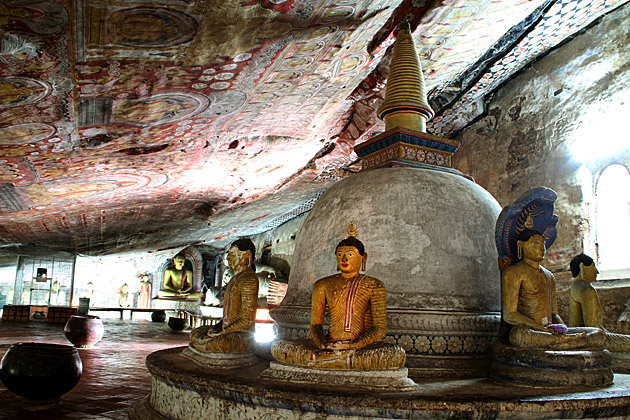 On arriving at the temple's gate, we were immediately put off by its gaudy modern facade, which makes the complex look suspiciously like a bargain China Buffet. But after buying tickets and skirting around the massive golden Buddha and smiling dragon, we found a much better atmosphere on the other side. Rocks, forest, monkeys and, after a steep fifteen-minute climb, incredible views which stretch to the Lion Rock.
The temple is spread across five caves of varying size. We started at the back, in cave #5, which is the best way to tackle them, since they become more impressive as you walk back towards the entrance. The caves are rather shallow, the maximum height reaching no more than about ten meters, and are filled to the brim with ancient sculpture and artwork. Over 150 Buddha statues and a mind-blowing collection of murals that cover over 20,000 square feet.
The caves had been used for shelter long before Sinhalese King Vattagamini Abhaya found refuge here. After having been driven from Anuradhapura by an Indian invasion, he lived in the caves for fifteen years, biding his time, nursing his wounds and building an army. He eventually returned to the capital and drove out the foreigners. In celebration, he built the Abhayagiri Stupa on the site of his victory, and Dambulla's Cave Temple at the place of his refuge.
At over 160 feet in length, Cave #2, the Temple of the Great Kings, is the largest and most impressive of the five. Buddha statues line the walls and the murals cover every inch of ceiling. Two sections paintings show the attempts of Mara (the Buddhist Satan) to distract Buddha during his meditation under the Bodhi Tree. In the first, Buddha sits in the "Have No Fear" pose, while on all sides a horrifying array of demons shake the earth and threaten attack. In the next, Mara has switched tactics and sent a bevy of busty beauties to tempt Lord Buddha from the path of enlightenment.
Although the murals have been touched up and repainted numerous times over the centuries, the age of the caves is jaw-dropping. It's an amazing feeling to be in a dark mountain temple, which looks much as it did over 2200 years ago when a victorious Sinhalese King was celebrating the recovery of his kingdom. Dambulla is yet another must-see experience in Sri Lanka's cultural triangle.