The Back of Beyond Eco Lodge in Sigiriya
For our three-day road trip that would bring us to Ritigala, Sigiriya and Dambulla, we needed a lot of energy. Luckily, we couldn't have chosen a more restful place to spend our down hours: The Back of Beyond Eco Lodge in Sigiriya.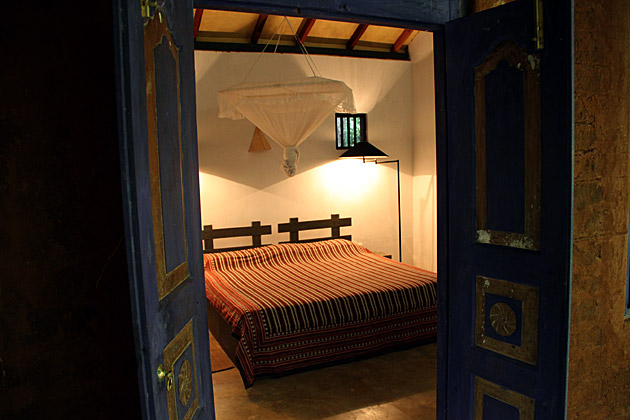 Located just past the temple which sits in front of Pidurangala Rock, Back of Beyond certainly lives up to its name. After arriving at the correct approximate location, we searched for the entrance but eventually had to call for help. Minutes later a kid appeared on a bike, and led us into the woods down a tiny dirt path marked only by a tall stone slab. We'd have never found it ourselves.
We checked in at around 3pm. Having spent the day at Ritigala, we were tired and the sight of the bungalows and quiet forest setting was extremely welcome. Guests get their own cabins, which are nicely decorated, comfortable and very eco-friendly. All of the buildings at the lodge were built without harming a single tree — wherever one might have stood in the way, holes were cut out of roofs, or walls erected at strange angles, to accommodate it.
The first thing I did was hop in the shower, located just outside the cabin behind a set of high walls. It's not often I get to shower outside, but with central Sri Lanka's consistently pleasant temperatures, it makes a lot of sense. We had a full board during our stay, and the meals were fantastic — Back of Beyond offers a wide selection of Sri Lankan food to choose from, like rice and curry, string hoppers, barbecue chicken and paratha.
But best of all was the peace and solitude, especially after tiring days of sight-seeing and hiking. Just sitting on the balcony's porch, with a good book open on my lap (there's a small library at the lodge), pretending to read while listening to the sounds of the forest… I couldn't have asked for more.
More info: Back of Beyond Eco Lodges