Pidurangala Rock – Sigiriya's Overlooked Brother
After our tiring ascent to the summit of Sigiriya Rock, we deserved to spend the rest of the day lounging around the hotel. But too many people had recommended a climb up Pidurangala Rock. "Sigh, I don't know. Well, it's right next to our hotel. But I'm so tired." We debated, deciding to skip it, then deciding to go, and then giving up on the idea again. Eventually, our better natures won out and, grumbling, we set off on our second uphill trek of the day. And we're happy we did.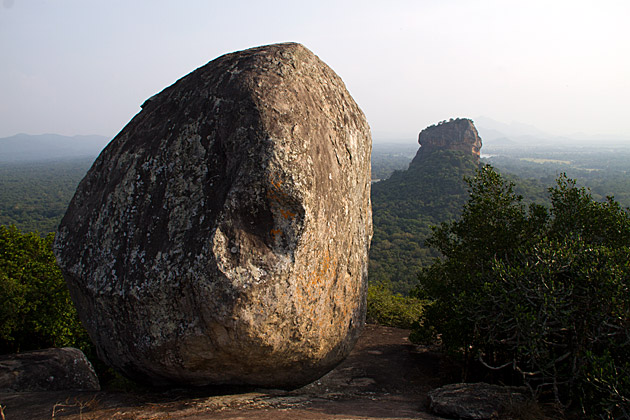 Pidurangala is where King Kassapa relocated the Buddhist monks who had previously occupied the area around Sigiriya. Just beyond an old temple which sits at the base of the hill, we found the path leading upwards. It was a blessedly easy hike, with a well-marked trail and manageable stairs, and it didn't take us more than a half-hour to reach a giant Buddha reclining in a shallow cave.
The path disappeared beyond the Buddha, but we had been told to carry on through the forest. It was perhaps the only time I've been thankful for litterbugs; without the messy trail of plastic bottles and bags, we'd have been lost. Soon, we reached a collection of boulders and, after scaling up and through these, we emerged onto the top of Pidurangala.
Although it's almost the same altitude as Sigiriya, Pidurangala's summit couldn't be further away in feeling. An expansive, flat field of rock, completely bare of anything save a small patch of cacti and trees in the center. No ruins, and no people. We had an amazing view of nearby Sigiriya, which looked even more impressive from this height.
During the whole excursion, we were completely alone, which was a real treat after the morning at busy Sigiriya. It's unbelievable that Pidurangala should be so neglected. The hike through the woods was gorgeous and atmospheric, the Buddha was impressive and emerging atop the rocky summit was unforgettable. Apparently, you're supposed to pay $2.50 at the temple, but there was nobody there when we entered or left, and so it was free — another relief, after having blown $30 apiece at Sigiriya. If you have time left over when in Sigiriya, Pidurangala is worth the effort.
–Rent a Great Apartment in Palermo, Sicily