The Danish Villa at Arugam Bay
The bulk of our stay in Arugam Bay was spent in the comfortable confines of The Danish Villa. Tucked back far off the town's main road, this small hotel has just five rooms, all with attached bathrooms and most with air conditioning.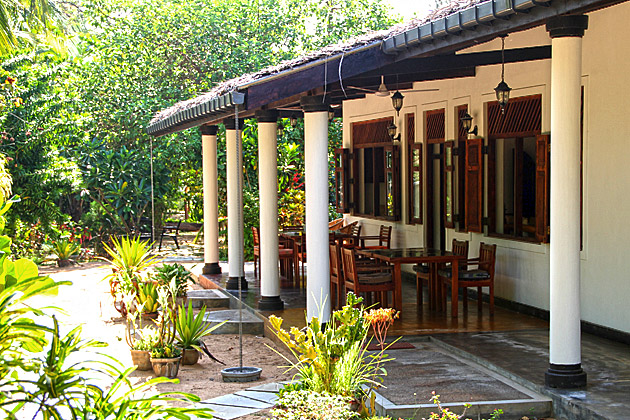 With capacity for fifteen guests, the place feels more like an aristocrat's tropical escape than a traditional hotel, and the staff are always accessible, hovering about somewhere, in case you need anything. During our stay, we were the only ones there, apart from the house dog who walked us up to the gates every morning. (Well, there was one night when a loud Sri Lankan family booked three rooms and really got into the spirit of place — by which I mean, they felt like they owned it. At 5am, the father woke up in a boisterous mood and yelled up and down the hall to rouse his slumbering family for their day's excursion. I opened our door to glare at him, but he either didn't recognize the hatred burning in my eyes, or didn't care).
The Villa — which proves its Danish credentials with a website in the ".dk" domain — organizes competitively-priced tours around Arugam Bay. Our trip through the Pottuvil Lagoon was actually cheaper through them than when we asked on the street. The villa doesn't do dinner, which is something we actually appreciated. Guesthouse meals are usually too expensive, and we were free to bring home take-away kottu from one of the nearby restaurants.
We had a great stay at the Danish Villa. The internet, although over a 3G dongle, was surprisingly fast and our afternoons were largely spent working on the terrace, over a pot of tea. If you're looking for an agreeable spot to snooze, away from the noise of the town's main drag, you could definitely do worse.
Book Your Stay Here: The Danish Villa Arugam Bay