A Boat Tour of Pottuvil Lagoon
There's more to do in Arugam Bay than just surfing and chilling out in beachside bars. The village is surrounded by some amazing and largely undeveloped nature. One sunny morning, we took a tour of the Pottuvil Lagoon, just to the north, hoping to see the elephants and crocodiles which make their home there.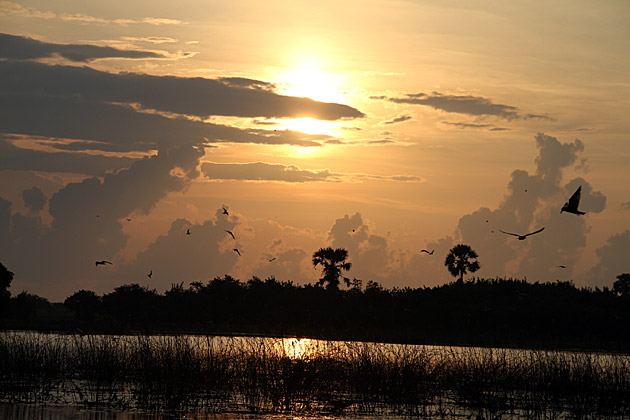 Bright and early at 6am, we piled into a tuk-tuk and set off for Pottuvil, where a boat and its conductor were waiting for us. The vessel looked rather homemade, a wooden pallet tied to two skinny canoes, and if we had been venturing into deeper water, I'd have been nervous. But this water was merely crocodile-infested, so I happily clambered on.
We glided silently out into the water, with the rising sun slowly bringing color to the sleepy scene in front of us. Thick forests of mangroves line the lagoon, their roots providing shelter for fish and their branches for birds. Our guide navigated us around the lagoon, alternating between pushing and rowing, depending on the depth of the water.
Along with diving birds, eagles and water buffaloes, the only other living creatures we saw were fishermen, returning home after a long night of work. They were moving as silently as us, cutting quickly across the surface of the still water, and waved hello instead of shouting. We didn't see any crocodiles or elephants, but that was fine by us. It was as if everybody — animal, nature and man — had conspired to make this as serene an experience as possible.
–Book Your Sri Lanka Flight Here