The Pettah – Colombo's Colorful Bazaar
Walking around Colombo's Pettah neighborhood, you could be forgiven for thinking you'd landed in Tehran or Cairo. A bazaar with definite Middle Eastern flair, the Pettah is where Sri Lanka's multi-culturalism is at its most pronounced. The district has long been inhabited by Muslims, but a strong population of Sinhalese and Tamils contribute to an intoxicating mix of ethnicities in Colombo's most colorful area.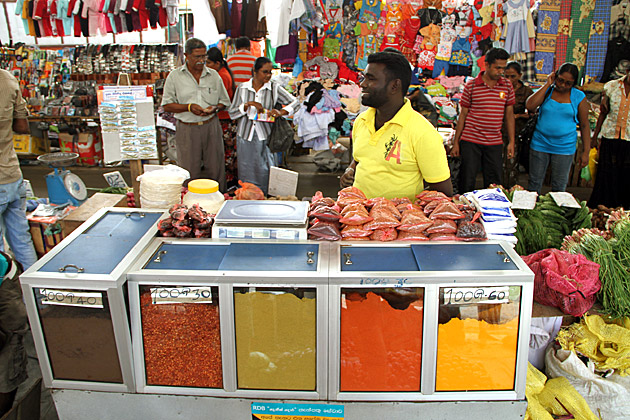 We visited the Pettah on our first full day in Sri Lanka, and were instantly won over. The narrow streets are clogged with tuk-tuks and men pulling heavy carts laden with goods, while a bewildering assortment of shops clamor for business. The Pettah spreads out north from the Fort Railway station, and we walked aimlessly about for a couple hours, snapping photos and absorbing the ambiance.
Similar shops tend to be grouped together. Hundreds of jewelry stores cling side-by-side on Sea Street, then around the corner you'll find a collection of shops selling ayurvedic herbs and roots. South of the Old Town Hall, there's a covered market selling fruits and vegetables, some of them familiar and some less so. Vendors were happy to identify the stranger specimens, and I almost bought a jackfruit — but carrying around the giant, spiky melon-shaped fruit for the rest of the day wouldn't have been a good idea.
Eager for a break, we ventured into the Old Town Hall. In the midst of such chaos, it was strangely deserted. On the second floor, we found a collection of dummies dressed in official uniforms, seated around a long table. Some sort of recreation of an old town meeting? I don't know, but it was definitely bizarre. We took a seat in a room full of empty school chairs and recharged.
The Pettah is home to a wide variety of places to worship. We visited the New Katherisan Kovil (Hindu), the gorgeous red and white Jami ul-Aftar (Muslim), and the Wolfendahl Church (Christian). Anyone in the market for a new religion should head straight to the Pettah, for some convenient comparison shopping. Without a doubt, this was the most lively and exciting neighborhood we visited during our short time in Colombo.
Location of The Pettha on our Sri Lanka Map