For 91 days
we lived on the island of Sri Lanka, and had some unforgettable adventures and experiences. We got up close with the wildlife, learned about the country's volatile history, met the curious locals, visited ancient Buddhist ruins, and tried to explore every corner of this amazing country. Whether you're planning your own trip to Sri Lanka, or just interested in seeing what makes it such a special place, we hope you enjoy our anecdotes and photographs. Start
at the beginning
of our journey, visit our
comprehensive index
to find something specific, or choose one of the articles selected at random, below:
mike_frontpage(); ?>
Showing #11 - 20 of 116 Articles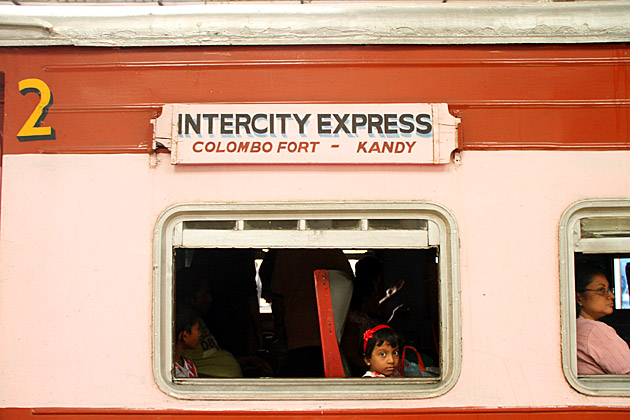 The slow-moving, three-hour journey from Colombo to Kandy is one of the most spectacular train rides we've ever taken. The track leaves the smoggy metropolis quickly behind, and travels inland through regions of increasing beauty and altitude, until arriving at Sri Lanka's hilltop jewel, Kandy. Throughout the ride, we were captivated by the ever-changing landscape, and spent the trip poking our heads out open windows, or hanging carefree from the doors like the feckless punks we are (or, would like to be).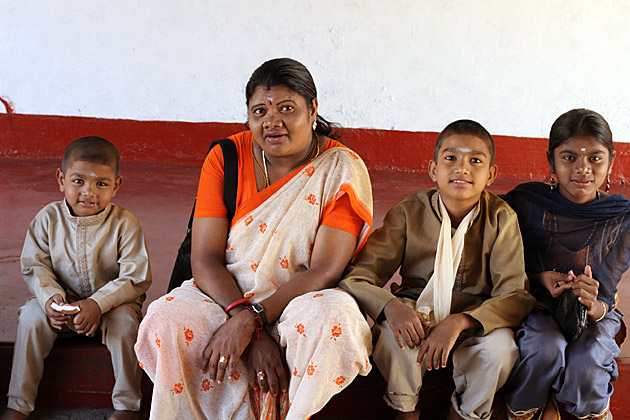 With its fluid, circular characters, written Sinhala (or Sinhalese) must be one of the world's most lovely scripts. A page full of it almost looks like absent-minded doodling, with its loops, spirals and squiggles. I've been fascinated by it since we arrived, and bought a book called Let's Learn Sinhala, Volume 1. Five days later, I can confidently write important words like head, crooked, bones, eye and bait. That's a good start towards a strange, sinister sentence.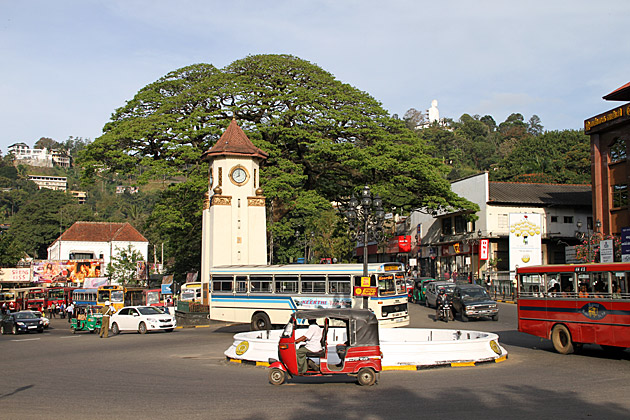 Though our initial stop in Sri Lanka was Colombo, we only spent a few days there, saving the first extended stay of our 91-day itinerary for Kandy. Strategically situated high in the hill country, almost exactly in the middle of the island, Kandy was the last bastion of Sri Lankan independence during the colonial period. Today, the smallish city of just over a hundred thousand pulses with life and a heavy tourist presence, for which it can thank its unique culture, history and unbelievable natural beauty.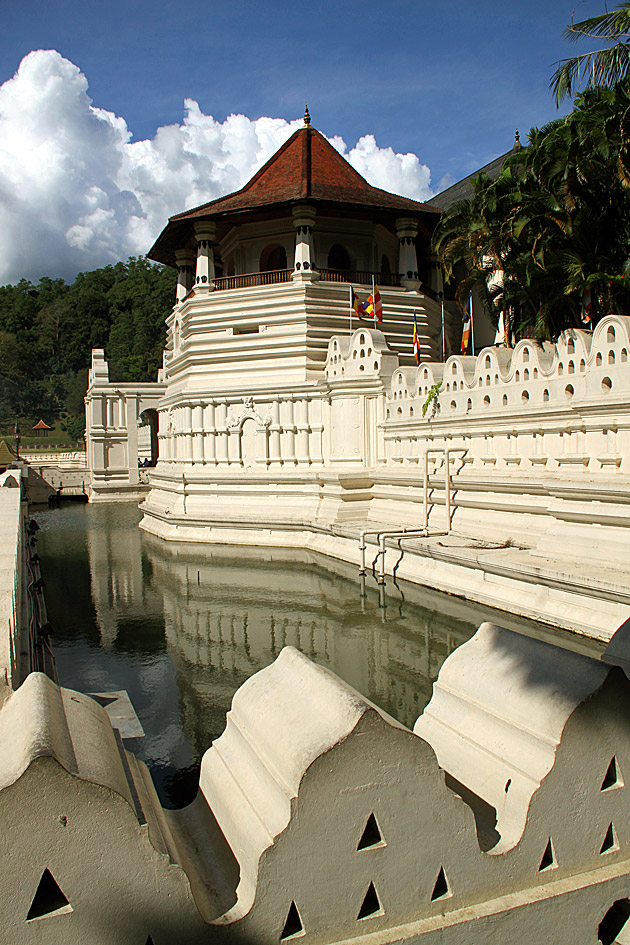 Sri Lanka's most important temple is home to its most sacred relic: a tooth of the Buddha himself. But when you visit, don't expect the chance to inspect the holy man's dental work. The tooth is kept sealed tightly behind multiple bejeweled doors and under the lid of a dagoba-shaped golden shrine. Luckily, there's plenty more to see in the temple's enormous complex, and a visit can easily eat up hours.
Nearby the Temple of the Tooth is the International Museum of World Buddhism. Hosted in the former High Court building, this comprehensive study of Buddhism throughout Asia only opened in May, 2011, and has rooms dedicated to sixteen nations, from China to the Maldives.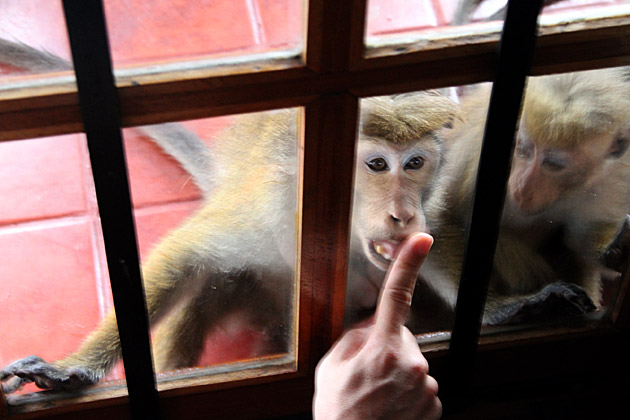 After a morning marked by clouds and humidity, it finally started to rain yesterday afternoon. We didn't mind much. A nice shower provides a welcome breath of fresh air here in Kandy, and we were safe under the roof of our porch. But creatures who live out in the open don't much appreciate the rain. They're forced to seek shelter, and our veranda seems to be an irresistible refuge. It's monkey time!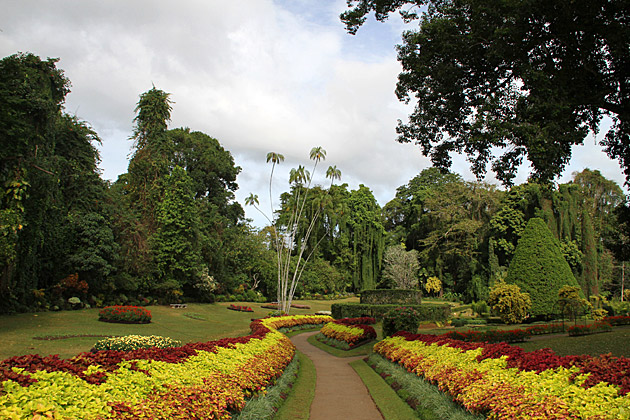 I was a little agitated by the $10 entry fee for the Peradeniya Botanic Gardens, but it didn't take me long after entering to realize that it was money well-spent. Peradeniya's are the most fantastic botanic gardens I've ever seen. Trees the size of sky-scrapers, flower bushes exploding in incredible color, giant palm trees that bloom just once in 45 years, and cannon ball trees with heavy round fruits were just some of the highlights. I've never been so bowled over by botany.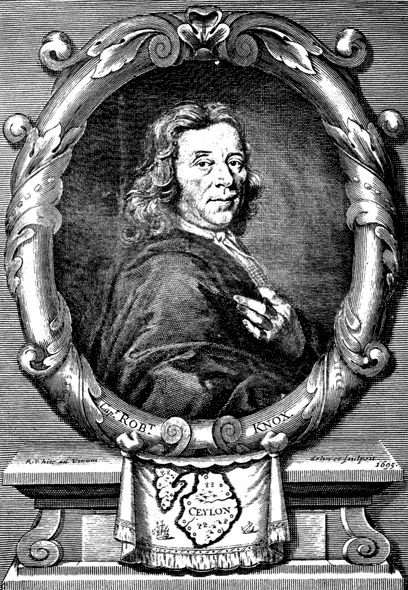 For hundreds of years, the stubborn Kandyan Kingdom proved a thorn in the side of conquest-happy European powers. Isolated, unassailable and mysterious, the kingdom remained the only independent region of Sri Lanka until finally falling to the British in 1817.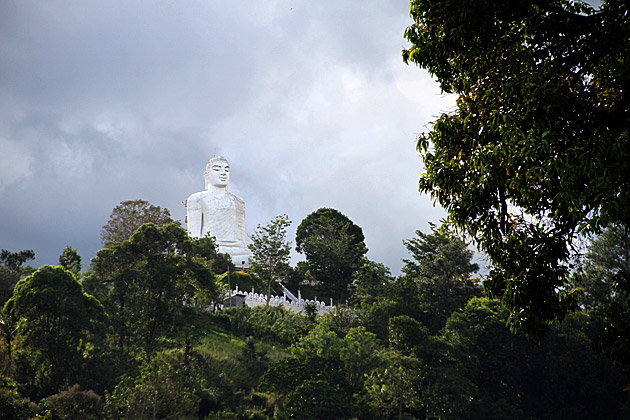 The giant white Buddha which sits atop Bahirawakanda hill is visible from all over Kandy, and a visit, whether by tuk-tuk or foot, is worth the effort for an unbeatable view. From atop Bahirawakanda, the city and its lake are laid out beautifully before you, and you'll feel secure underneath the big Buddha's benevolent, protecting presence. You might need the protection more than you realize. The spot on which you're standing has an evil past...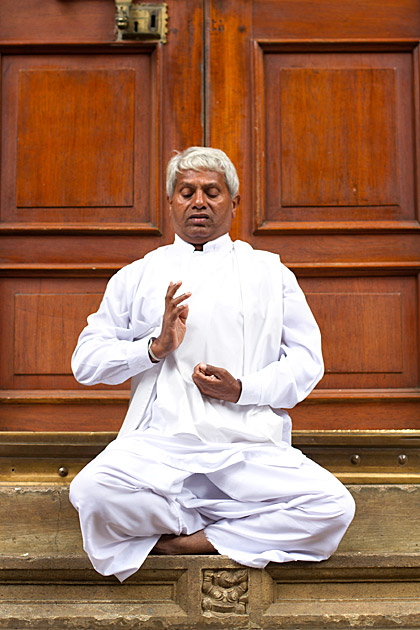 We planned our visit to Kandy's Temple of the Tooth with a poya, or full moon, day. Buddhists follow the lunar calendar and Poya Days are the most sacred of the year. So the temple -- Sri Lanka's most important -- was packed full of worshipers. As you might imagine, there were a lot of photogenic moments just waiting to be captured.