A Death-Defying Journey to Habarana
During our stay in Polonnaruwa, the owner of our guesthouse had arranged a trip to the Eco-Park of Habarana. We'd heard good things from other travelers, and were anxiously awaiting our afternoon hour of departure. But we ought to have been looking forward to the trip with apprehension, instead of excitement.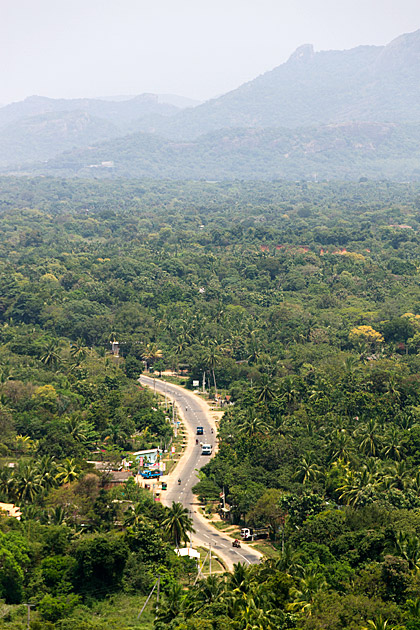 Here's a little tip. If someone organizes a driver for you, and a pot-bellied guy pulls up in a brand new, bright yellow jeep, ask for his name. If it's something like "Manjou", don't get into the jeep. If you do, and if you manage to survive the day, you will regret not heeding us!
Strike 1! Manjou drove like a bat out of hell. A brand new Hot Wheels, unwrapped on Christmas morning by a hyperactive child, is treated with more care and dignity than Manjou handles his shiny toy. More than once, I was sure we'd crash. He swerved outrageously in and out of traffic, sending us flying off our seats (no seatbelts, in the back of the jeep). A couple times, he almost lost control.
Strike 2! Manjou wasn't the most conversational of chaps. He didn't say a word to us during the whole drive, and then he started to fall asleep while careening down the highway. I caught him nodding off three times. It was like, if there were ten consecutive seconds where he didn't get the giddy rush of passing someone, it bored him. Nap time. And, believe it or not, this wasn't his worst offense!
Strike 3! He didn't even have a valid license! We got pulled over by the cops, a couple kilometers away from Habarana. Manjou sleepily got out of the jeep and had a long conversation with them, which got more and more heated while we watched from the back window. When it was over, one of the cops opened the door of the jeep, and said "Danger", then walked away. "Danger WHAT!" I yelled after him. He returned. "This man has no license. You are in danger if you ride with him".
You don't say!
Confusingly, they let him continue driving and we made it to Habarana in one piece. There, we switched into another jeep for the tour through the Eco-Park, with a different, much better driver. Our enthusiasm for the park had eroded somewhat. Regardless of what we'd see, it would almost certainly not live up to the excitement of the ride there.