Tuk-Tuking around Sri Lanka
"Why didn't we think of that?!" "Our lives would be so much easier." "It would be so much fun." "Man, I'm so jealous!" These are among the sentences which found their way into our conversations, after we had met Marc and Carina at our guesthouse in Polonnaruwa. The Belgian couple earned our everlasting respect after revealing that they had rented a tuk-tuk for their three month journey around Sri Lanka.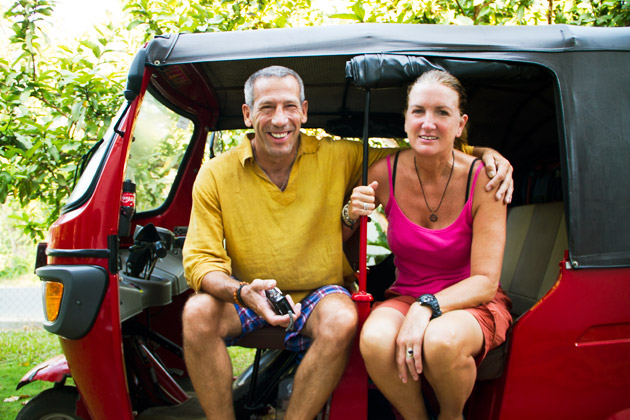 Over dinner, Marc and Carina shared their experiences in the tuk-tuk. With the freedom of their own transport, they were able to see a lot more than us and have interacted with locals in a more authentic way — puttering around in their tuk-tuk won them instant respect. And they've even taken passengers, packing schoolkids into the back for a free ride home. It would have been perfect for Jürgen and I, who were schlepping around a lot of luggage, and constantly on the road.
Who are you?
Marc de Kyusscher (52 years) and Carina (50 years), both Belgian, with one happily married son. Our favorite hobby has always been traveling, but because of work, we've always had to stick to short trips. Now that we're semi-retired, we're finally able to see the world without any time pressure…
When and why did you start travelling?
Our journey began on June 5th, 2011 — also our 30th anniversary. We've always dreamed of doing a trip around the world. Our son is 27 years old and we always said that when he marries, we'll begin our dream. Last year, it happened! We sold our house, got our son's blessing, and took off. We have worked our whole lives for the chance to do this, and finally are able to enjoy the fruits of our labor. We're renting an apartment back home, so that we have a place to go when our journeys are over.
From Belgium, we took bicycles to Cappadocia, in Turkey. After a quick interlude back home, we explored India for three months on an "Enfield Bullet" motorcycle. And now, Sri Lanka…
Why Sri Lanka?
We arrived in Sri Lanka on February 27th, and planned to stay until May 27th [Due to a death in the family, Marc and Carina had to return home at the end of April]. Why so long? Well, because we read everywhere that the country has it all: mountains, nature, national parks, the sea, beaches, hospitality and various religions that live together. We were also extremely interested in seeing how the North of Sri Lanka is recovering after the war, which just ended in 2009.
And why with tuk-tuk?
We always want to travel independently, and not rely on bus or train. So we always search for our own transportation method. A scooter wouldn't work here, since we have too much luggage, and we weren't able to find a car. We tried to think of a vehicle that would keep us connected with the environment and the people… and that's when we had the idea to rent a tuk-tuk! Turns out, there aren't many places where it's possible to do so, but we found one in Negombo called "Alma Tours", at Lewis Place 217.
How much did it cost? And were there any formalities?
The price is unbelievable: 1200 Rupees (about €7) a day. You need an international driver's license and a permit from the "Automobile Association" in Colombo, which costs just 1500 Rupees a year. We also took out a fully comprehensive insurance for €30.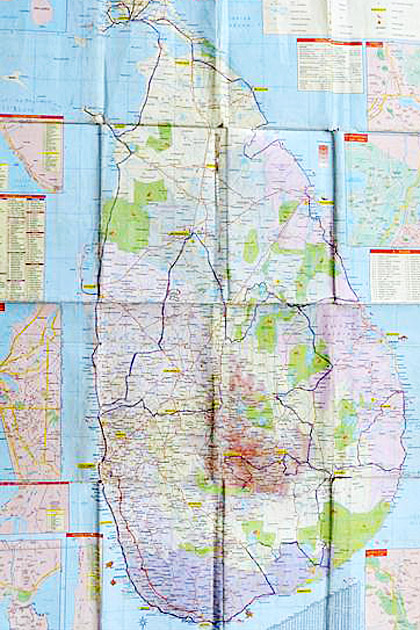 Is it dangerous driving?
Outside of the cities, it's wonderful to drive — quiet and very little traffic. But the buses and trucks clearly feel that they're "masters of the street" and blast right past you. We always give them a ton of room… they never have patience, and drive like crazy!
There are plenty of gas stations, and in every small town you can find shops where you can get "bottles" of petrol. But only do so in an emergency! It's common to find cheap and dirty gas, and you pay more. We always took an extra five-liter canister with us. You never know! Five liters can take you about 140km. And in the tuk-tuk, parking is never a problem.
Have you had any problems?
Once, the tuk-tuk began to putter, and then wouldn't go back on. The problem? Dirty benzine and/or air in the petrol line. A policeman helped us right away to air out the line, which took care of the problem.
Another time, a screw popped free and fell into the motor, between the valves — probably during our bumpy tour through Wipattu Park. The path was so bad and full with mud after the rain, that the screw must have been "shaken" free. In a workshop, they took the entire motor apart, which took around five hours. We also did an oil change at the same time — the cost for everything was 2700 Rs (€16).
Worst moments in the tuk-tuk?
Flat tires and awful streets.
Best moments?
With the tuk-tuk, it was always wonderful! It's incredible, and the best way of traveling!
This is especially true since you kind of belong to the locals, many of whom also drive tuk-tuks. When they see a tourist driving one, they always laugh and try to help out. When we stop, they immediately ask if there's some way they can assist. It's the BEST! We'd love to take the tuk-tuk with us back to Belgium! As long as you're a little adventurous, it's a wonderful way to travel.
Check out photos from their journey: Cycle2gether