A Sea Turtle Excursion at Rekawa Beach
Sri Lanka has the extraordinary privilege of welcoming five of the world's seven species of sea turtle to its shores. The turtles, who travel around the world and across entire oceans, somehow know to return to their natal beaches when the time comes to reproduce. At night, they emerge from the ocean and lay their eggs in the sand. At Rekawa Beach, the Turtle Conservation Project keeps a watchful eye over the eggs and provides tourists a rare opportunity to see the giant creatures clamber onto land.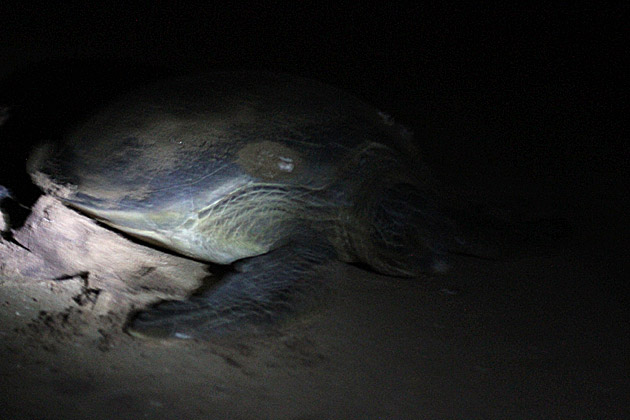 We showed up at 8pm, on April 11th — the same day as the massive 8.6 earthquake in Sumatra which sparked a tsunami warning across Sri Lanka. So we had accepted the possibility that the rough weather and seismic instability might discourage the turtles from braving the shore. But after only a few minutes of waiting in the dark (which afforded us the chance to admire the stars; something we'd missed in bright, densely-packed Sri Lanka), a flashlight down the beach alerted us to the presence of a turtle.
The turtles require a sense of solitude while they make their way out of the water. If they detect a human, they'll abandon their attempt and return another day. Leaving behind an interesting track that looks like a Monster Truck's tire, they head towards the shrubbery at end of the beach, and choose a spot for their eggs which is safe from the water and (hopefully) predators. People are allowed to approach only once the turtles have started the process of laying the eggs, which can take over a half-hour and during which they'll remain absolutely immobile.
We waited patiently while the turtle, barely visible in the dark from about twenty meters away, chose a suitable place for her future babies. Unfortunately, something spooked her, because our guide suddenly urged us to run towards her on the beach, as she was escaping back into the water. A huge and beautiful creature, she could move a lot faster than I would have believed and I felt awful chasing after her, trying to snap pictures.
That was it. The guide brought us back and asked for our 2000 Rupee donation. We were disappointed — the night had just begun, and we didn't understand why we couldn't wait for the next turtle. But, he didn't seem to care; we had seen our turtle, and now he could return to hanging out in the hut with his buddies.
Oh well. We had just seen a wild sea turtle on a deserted beach during a beautifully starry night. In the end, it was hard to complain.