The Pinnawela Elephant Orphanage
Established in 1975, the Pinnawela Elephant Orphanage has become one of the most popular touristic destinations in Sri Lanka, for reasons that should be obvious. What, you need it spelled out? Fine: Orphan Elephants. Baby Orphan Elephants. Lots and lots of baby orphan elephants, that want to cuddle with you, and then frolic and play in the water. What kind of person could say "no" to that? Honestly, who could be like, "Nah, that sounds dumb".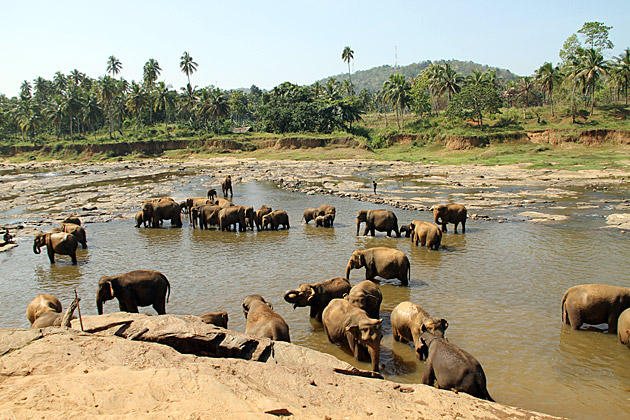 We had an amazing time during our visit, as we knew we would. The elephants were remarkable. Beautiful, utterly friendly creatures, who've been lived their whole lives in the orphanage and are completely comfortable with humans. The day's only negative was provided by the people working at the park. The "guards" who, from the moment we entered to the moment we left, were looking for money. Tips for petting an elephant. Tips for feeding, tips for pictures. Tips, just 'cause. Their wearisome greediness never abated. If an elephant approached you, a guard would appear like magic, angrily shooing it off with a pointed stick. Then, he would turn to you with a smile. "You like touch elephant?"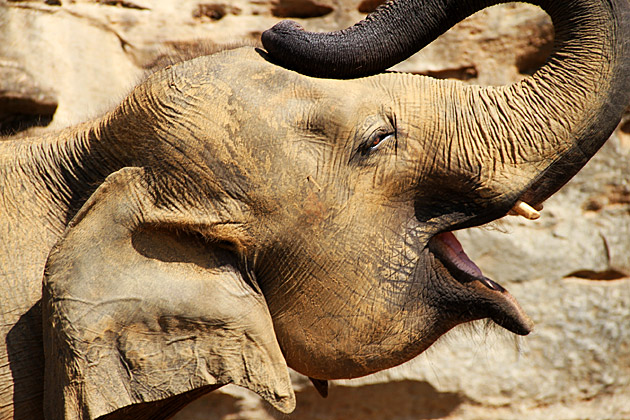 But this was a minor annoyance and it was hard to stay angry, surrounded, as we were, by at least sixty elephants. Besides, try as they might, the guards couldn't keep up with everything. Once, a baby elephant the height of my chest waddled up to Jürgen and I, with its trunk extended. He squeezed my hand, and then pulled me close alongside his body. I figured he wanted a hug, so I gave him one. We had a full minute alone with this little guy, and it was a minute I'll never forget.
The day's highlight was bathing time. The elephants were led in a giant procession to the nearby river, where they were allowed to splash and play for two hours. The little ones rolled around in the water, while the adults sprayed water onto each other and cuddled. I could have watched them bathe all day long. So many elephants congregated in one place — I'm sure it's possible to see something similar in the wild, but this was truly a special experience for us.
So we wholeheartedly recommend a trip to the Pinnawela Elephant Orphanage. The money-grubbing guards are annoying, but as long as you're prepared to ignore them, you'll have an unforgettable experience.