Casuarina Beach on Karaitivu Island
You'd think that, for a long, narrow strip of land which juts out into the Indian Ocean, finding a beach on the Jaffna Peninsula wouldn't be a big hassle. But reaching the two beaches we visited during our time in the north required a degree of planning and force of will normally required for tasks like composing a symphony, or cooking a seven-course meal. To arrive at Chatty Beach, we had to rent bikes, ask seventy guards for directions and battle through an unbelievable headwind for miles. And getting to Casuarina Beach was no easier.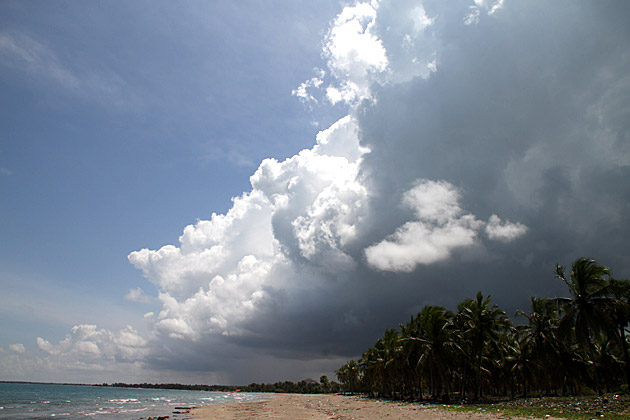 Karaitivu was the second of three western islands we visited during our stay in Jaffna (the others being Kayts and Delft). We arrived at the bus station equipped with a map, and freshly educated in pronunciation by the owner of our guesthouse. "Ka-rye-tee-vah! Faster! No accents! Like it were one crazy syllable!" Alas, the guys working at the bus station still had no idea what I was saying. Giving up, I just pointed at the map. "Ah, Karaitivu!"
The two attendants helping us were soon joined by a curious cadre of four other bystanders, all discussing which bus we should take, and where we should really be going. One guy was convinced that we'd do better to visit Nanaitivu — another island which he considered more interesting. And amid all the discussion and confusion, we nearly followed him onto the wrong bus.
The twenty-kilometer ride took over an hour to complete, and we were dropped off in a dusty town with one store and three people. Now, just an easy mile-long hike separated us from the crystal blue water and white sand of Casuarina Beach. On arriving, we were overjoyed — exactly as we had hoped for! A gorgeous stretch of sand extending for kilometers along the northern coast of the island, bordered by the shrubby Casuarina trees which lend the beach its name. We decided to escape local bathers, and walk towards the lighthouse on the northwestern tip of the island before sitting down: a plan that would be our undoing.
A few minutes before reaching the spot we'd chosen to set up our towels, the skies suddenly darkened. This had been a sunny day! After the stressful journey to even arrive at the beach, the rain began almost the instant we sat down. Having fun, Jaffna?! We think you're hilarious, too!
We swam for a bit under the rain, but soon packed it up and started back home. Sigh. It wasn't the most successful of our day trips, but despite the trouble, it was nice to see such a pristine bit of nature. With a bit better luck and (especially) our own transport, it would have been a great day out.
Location of Casuarina Beach on our Map
–All Of Our Published Travel Books