The New Town and Weekend Market of Anuradhapura
It can't match the Sacred City for ancient splendor, and by itself wouldn't warrant a visit on even the most comprehensive itinerary, but the New Town of Anuradhapura is unavoidable on any visit to the city. We spent a lot of time here, shopping, drinking and eating, and visiting the wonderful weekend market.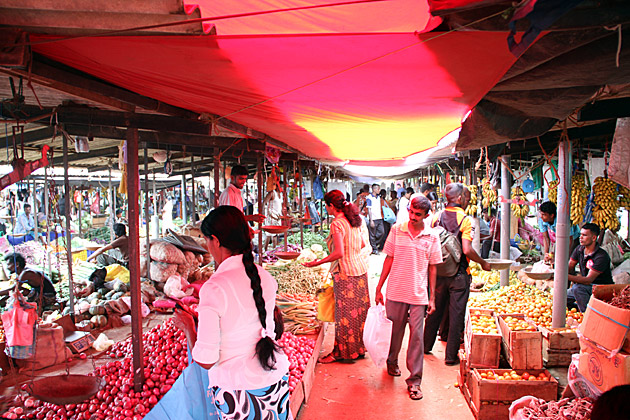 Like the Sacred City, the New Town is long and narrow. Between the train station down and bus stand, roughly three kilometers, Main Street is packed with shops, restaurants, traffic and commotion. It's all rather ugly — every block looks the same, and if there's a reason to eat at this grimy restaurant as opposed to that one, or the sixteen exactly identical ones down the street, I couldn't see it.
On weekends, the New Town hosts an incredible market, just south of the New Bus Stand. This was one of the first things we discovered during our time in the city, and we spent a long time walking up and down the aisles, checking out the food, and having tortured mime-conversations with the market sellers, all of whom wanted to sell us strange zucchinis, or have their picture taken.
While the New Town isn't the most memorable place we've been in Sri Lanka, it offers an interesting peek into the day-to-day life of the country.
Location of the New Town Market
–Cheap Flights To Sri Lanka