For 91 days
we lived on the island of Sri Lanka, and had some unforgettable adventures and experiences. We got up close with the wildlife, learned about the country's volatile history, met the curious locals, visited ancient Buddhist ruins, and tried to explore every corner of this amazing country. Whether you're planning your own trip to Sri Lanka, or just interested in seeing what makes it such a special place, we hope you enjoy our anecdotes and photographs. Start
at the beginning
of our journey, visit our
comprehensive index
to find something specific, or choose one of the articles selected at random, below:
We've gathered together all of the articles and over 250 photographs from our three-month adventure in Sri Lanka into an E-Book for your Kindle or E-Reader. Carry all of our Sri Lankan experiences along with you in this portable format. The book includes a comprehensive index, which makes navigation a cinch, and features all our anecdotes, advice and the best full-color images from our months in Sri Lanka. We had an unforgettable time in this beautiful and occasionally frustrating island nation, and hope our experiences can help enrich your own visit there.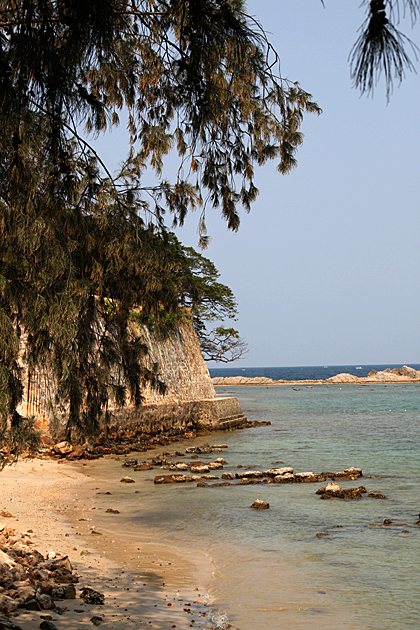 A mighty promontory jutting out into the Indian Ocean, Swami Rock divides Trincomalee's Back Bay from the Dutch Bay. It's an impressive natural landmark and has always played an important role in the city's affairs. Before the arrival of the Europeans, Swami Rock was home to the world-famous Temple of the Thousand Pillars. Currently, it's occupied by the massive Fort Frederick.
During our weeks in Kandy, we passed by the Rajanima Craft shop a number of times and finally decided to visit on our second-to-last day in the city. One of the guys working there was happy to take some time out, show us around the shop and explain a little about the craft.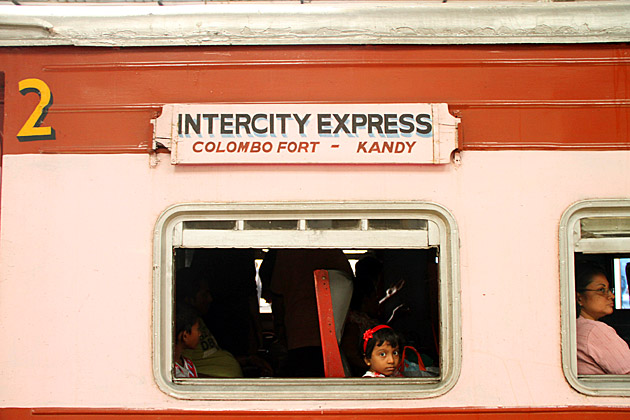 The slow-moving, three-hour journey from Colombo to Kandy is one of the most spectacular train rides we've ever taken. The track leaves the smoggy metropolis quickly behind, and travels inland through regions of increasing beauty and altitude, until arriving at Sri Lanka's hilltop jewel, Kandy. Throughout the ride, we were captivated by the ever-changing landscape, and spent the trip poking our heads out open windows, or hanging carefree from the doors like the feckless punks we are (or, would like to be).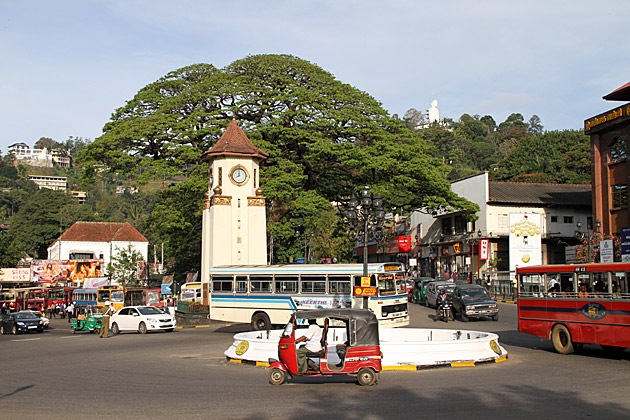 Though our initial stop in Sri Lanka was Colombo, we only spent a few days there, saving the first extended stay of our 91-day itinerary for Kandy. Strategically situated high in the hill country, almost exactly in the middle of the island, Kandy was the last bastion of Sri Lankan independence during the colonial period. Today, the smallish city of just over a hundred thousand pulses with life and a heavy tourist presence, for which it can thank its unique culture, history and unbelievable natural beauty.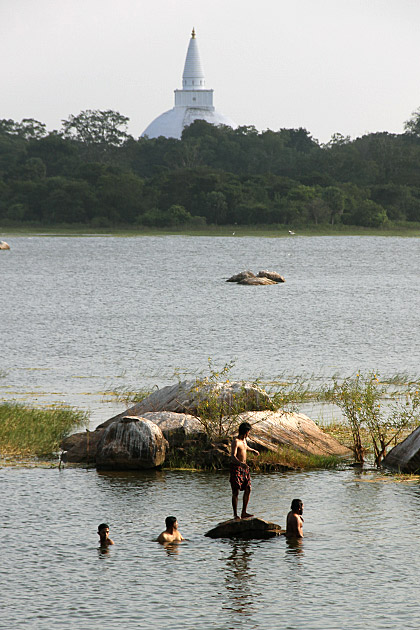 Without the presence of its three artificial lakes near the city center, Anuradhapura would never have flourished. Tissa Wewa, Nuwara Wewa and Basawakkulama ensured that the people would always have rice and fresh water, even during the long months between monsoons. At the time of their construction, over two millennia ago, they were among the world's greatest feats of engineering, and continue to amaze today.
Our first day in Trinco, while we were walking up Fort Frederick Road, we spotted a small deer in a park. Of course, deer are skittish, but we were unusually nearby and no "danger alarm" seemed to be going off in his head. Then we noticed another deer, walking alongside dogs, and another approaching a group of people. Then we saw someone petting one. Then I pet one. And after that, we watched a couple guys share their rice and curry with one. And that's when I figured out there must be LSD in my water.