For 91 days
we lived on the island of Sri Lanka, and had some unforgettable adventures and experiences. We got up close with the wildlife, learned about the country's volatile history, met the curious locals, visited ancient Buddhist ruins, and tried to explore every corner of this amazing country. Whether you're planning your own trip to Sri Lanka, or just interested in seeing what makes it such a special place, we hope you enjoy our anecdotes and photographs. Start
at the beginning
of our journey, visit our
comprehensive index
to find something specific, or choose one of the articles selected at random, below:
We've gathered together all of the articles and over 250 photographs from our three-month adventure in Sri Lanka into an E-Book for your Kindle or E-Reader. Carry all of our Sri Lankan experiences along with you in this portable format. The book includes a comprehensive index, which makes navigation a cinch, and features all our anecdotes, advice and the best full-color images from our months in Sri Lanka. We had an unforgettable time in this beautiful and occasionally frustrating island nation, and hope our experiences can help enrich your own visit there.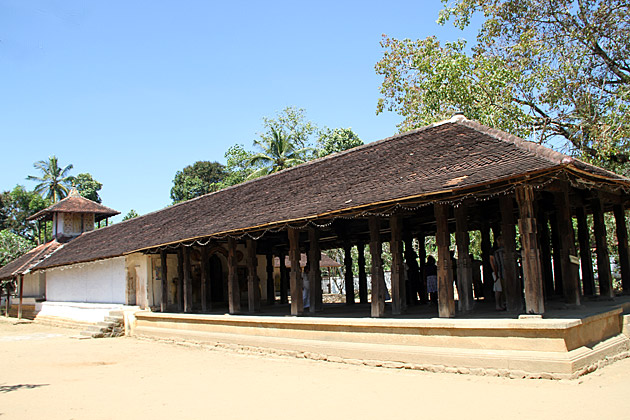 Conveniently, three of the most ancient and interesting temples in the central highlands are within easy walking distance of one another, southwest of Kandy. Even if the temples themselves weren't fascinating, and they are, the seven-kilometer path which connects Embekke, Lankathilake and Gadaladeniya leads past rice fields and through small towns, and would be worth walking in its own right. Judging by the enthusiastic manner in which locals greeted us, I don't think a lot of tourists pass this way.
In the middle of Beira Lake, the sleek Buddhist Temple of Seema Malaka rises elegantly from the tepid water. In comparison to the garishly colorful Sri Subravanian Kovil, which we had just finished visiting, Seema Malaka is a marvel of restraint.
Sri Lanka, the pendant-shaped jewel hanging off the earlobe of India, has had a number of names throughout its long history. Under British rule, the island was known as Ceylon. Arabs called it Serendib, the origin of the word serendipity, which hints at its beauty. And for a span of three months, Jürgen and I would be referring to it as "home".
Established in 1975, the Pinnawela Elephant Orphanage has become one of the most popular touristic destinations in Sri Lanka, for reasons that should be obvious. What, you need it spelled out? Fine: Orphan Elephants. Baby Orphan Elephants. Lots and lots of baby orphan elephants, that want to cuddle with you, and then frolic and play in the water. What kind of person could say "no" to that? Honestly, who could be like, "Nah, that sounds dumb".
Though the crazy monsoon weather we experienced during our two weeks in Galle soured our moods and ruined planned excursions, it did give us the chance to explore the Fort neighborhood in full — particularly its restaurants, cafes and bars. Here were some of our favorite spots during our time there.
The two well-known national parks near Habarana are Kaudulla and Minneriya. So we were more than a little skeptical while listening to this guy pitch the Hurulu Eco-Park: a little-known reserve that didn't even appear in our guidebook. "Don't worry!" he cried, "All the elephants are in Eco-Park!" Sure they are, buddy. But what were we going to do, claim that we knew better?