For 91 days
we lived on the island of Sri Lanka, and had some unforgettable adventures and experiences. We got up close with the wildlife, learned about the country's volatile history, met the curious locals, visited ancient Buddhist ruins, and tried to explore every corner of this amazing country. Whether you're planning your own trip to Sri Lanka, or just interested in seeing what makes it such a special place, we hope you enjoy our anecdotes and photographs. Start
at the beginning
of our journey, visit our
comprehensive index
to find something specific, or choose one of the articles selected at random, below:
We've gathered together all of the articles and over 250 photographs from our three-month adventure in Sri Lanka into an E-Book for your Kindle or E-Reader. Carry all of our Sri Lankan experiences along with you in this portable format. The book includes a comprehensive index, which makes navigation a cinch, and features all our anecdotes, advice and the best full-color images from our months in Sri Lanka. We had an unforgettable time in this beautiful and occasionally frustrating island nation, and hope our experiences can help enrich your own visit there.
Though the crazy monsoon weather we experienced during our two weeks in Galle soured our moods and ruined planned excursions, it did give us the chance to explore the Fort neighborhood in full — particularly its restaurants, cafes and bars. Here were some of our favorite spots during our time there.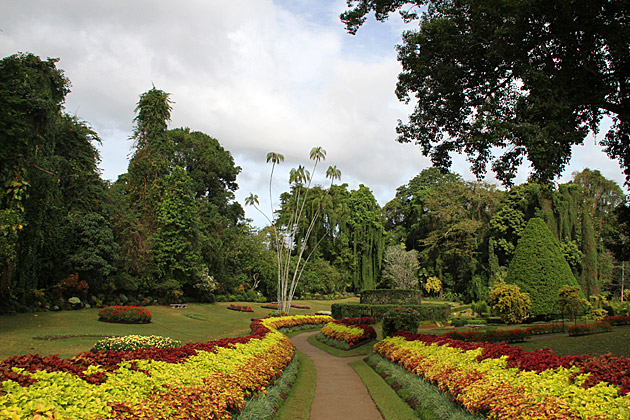 I was a little agitated by the $10 entry fee for the Peradeniya Botanic Gardens, but it didn't take me long after entering to realize that it was money well-spent. Peradeniya's are the most fantastic botanic gardens I've ever seen. Trees the size of sky-scrapers, flower bushes exploding in incredible color, giant palm trees that bloom just once in 45 years, and cannon ball trees with heavy round fruits were just some of the highlights. I've never been so bowled over by botany.
During our stay in Polonnaruwa, the owner of our guesthouse had arranged a trip to the Eco-Park of Habarana. We'd heard good things from other travelers, and were anxiously awaiting our afternoon hour of departure. But we ought to have been looking forward to the trip with apprehension, instead of excitement.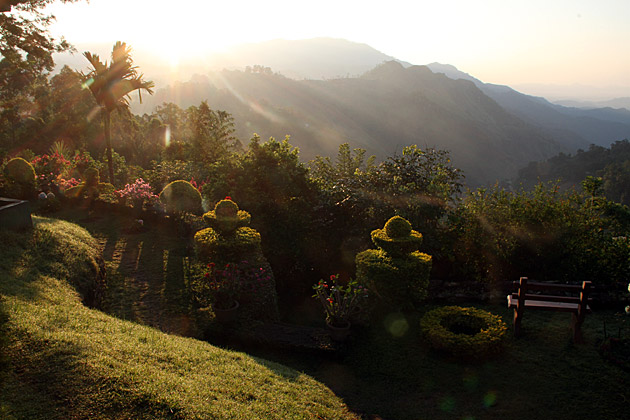 In some places, you have to work hard, catch a lucky break or be extra creative to get great pictures. And then there's Ella. I didn't even have to move from our porch. Or look at what I was taking pictures of. Or hold the camera. That would have required putting my drink down! Nope, from our incredible veranda overlooking Ella Gap, I was able to place the camera on a table and once in while press the shutter button. Violà instant magic! Chameleons, sudden storms, atmospheric moon rises, amazing nature. This is a kind of photography I could get used to.
During our weeks in Kandy, we passed by the Rajanima Craft shop a number of times and finally decided to visit on our second-to-last day in the city. One of the guys working there was happy to take some time out, show us around the shop and explain a little about the craft.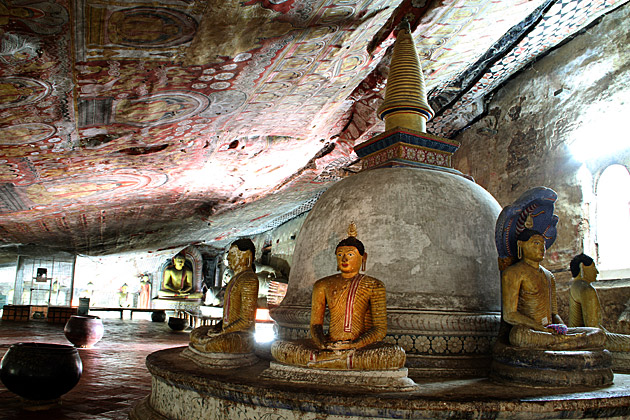 An extensive complex of ancient cave temples is found in Dambulla, a bustling town just twelve kilometers from Sigiriya. It's awfully convenient that two of Sri Lanka's best cultural sites are within such easy access of each other, and we visited one right after the other. The Dambulla Temple was constructed in the 1st century BC and inscribed as a UNESCO World Heritage Site in 1991.