For 91 days
we lived on the island of Sri Lanka, and had some unforgettable adventures and experiences. We got up close with the wildlife, learned about the country's volatile history, met the curious locals, visited ancient Buddhist ruins, and tried to explore every corner of this amazing country. Whether you're planning your own trip to Sri Lanka, or just interested in seeing what makes it such a special place, we hope you enjoy our anecdotes and photographs. Start
at the beginning
of our journey, visit our
comprehensive index
to find something specific, or choose one of the articles selected at random, below:
We've gathered together all of the articles and over 250 photographs from our three-month adventure in Sri Lanka into an E-Book for your Kindle or E-Reader. Carry all of our Sri Lankan experiences along with you in this portable format. The book includes a comprehensive index, which makes navigation a cinch, and features all our anecdotes, advice and the best full-color images from our months in Sri Lanka. We had an unforgettable time in this beautiful and occasionally frustrating island nation, and hope our experiences can help enrich your own visit there.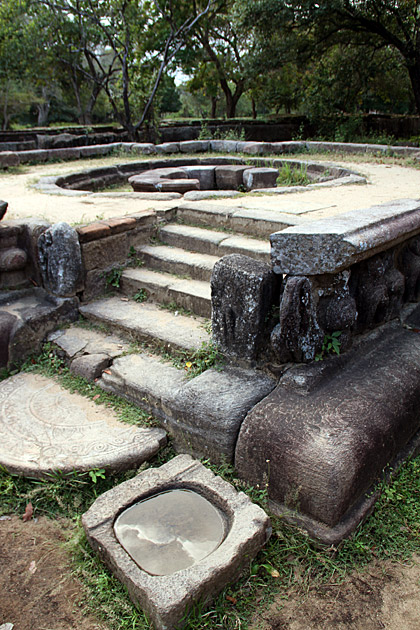 The Lahugala Reserve, occupying a mere six square miles in the jungle east of Arugam Bay, is one of Sri Lanka's smallest national parks. We combined a short tuk-tuk excursion to the reserve with a visit to the remains of a legendary queen's palace.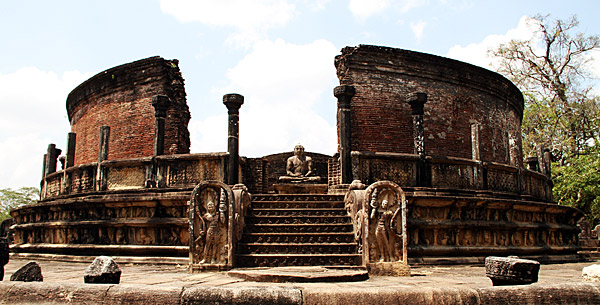 Exhausted from a morning spent exploring Polonnaruwa's massive archaeological site, we sat down for a much-needed break. I leafed through our guide book, and took a big gulp. We had already seen a lot, but weren't even midway through. And the ruins which remained threatened to be even more amazing.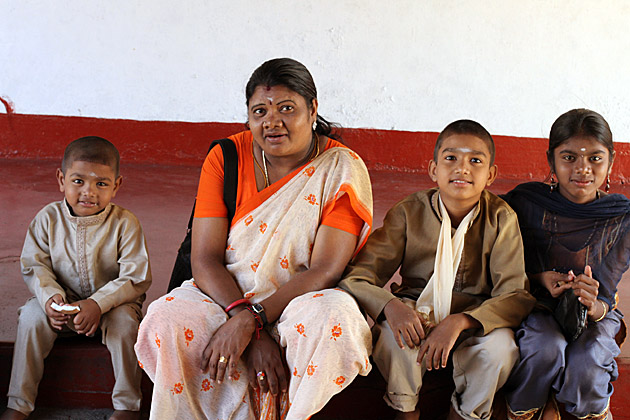 With its fluid, circular characters, written Sinhala (or Sinhalese) must be one of the world's most lovely scripts. A page full of it almost looks like absent-minded doodling, with its loops, spirals and squiggles. I've been fascinated by it since we arrived, and bought a book called Let's Learn Sinhala, Volume 1. Five days later, I can confidently write important words like head, crooked, bones, eye and bait. That's a good start towards a strange, sinister sentence.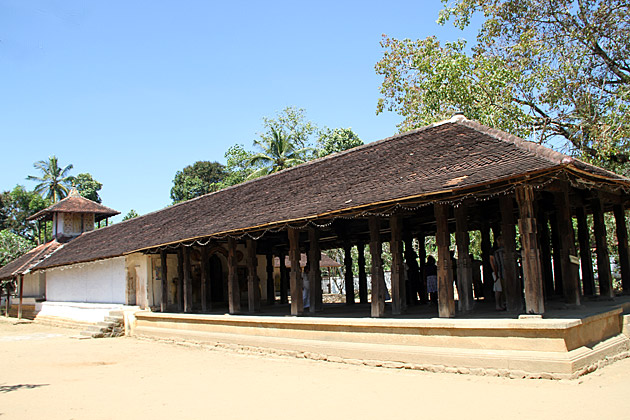 Conveniently, three of the most ancient and interesting temples in the central highlands are within easy walking distance of one another, southwest of Kandy. Even if the temples themselves weren't fascinating, and they are, the seven-kilometer path which connects Embekke, Lankathilake and Gadaladeniya leads past rice fields and through small towns, and would be worth walking in its own right. Judging by the enthusiastic manner in which locals greeted us, I don't think a lot of tourists pass this way.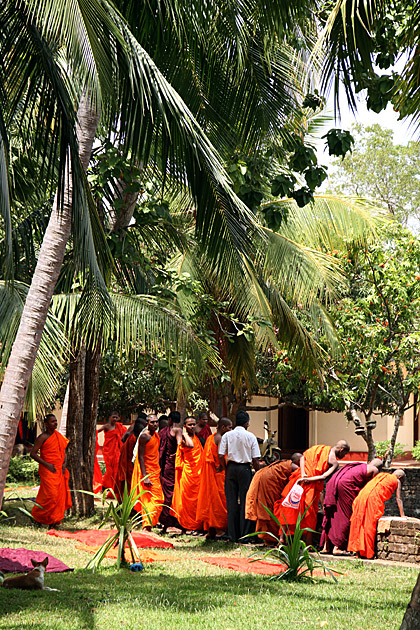 I've never been in a city as schizo as Anuradhapura. Its two sides are basically equal in size, but opposite in everything else. East/West. New/Old. Secular/Religious. Chaotic/Serene. Humdrum/Magical. New Town/Sacred City.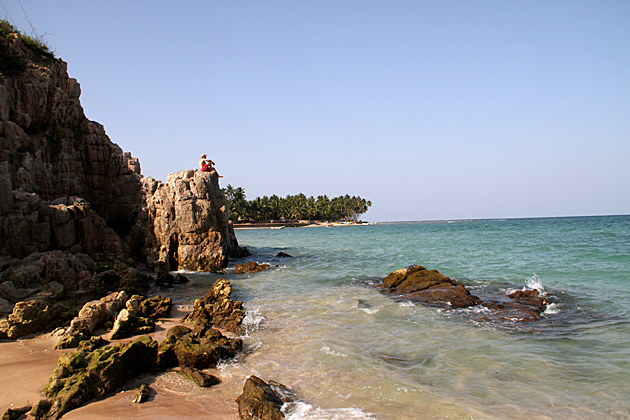 A gorgeous stretch of beach just a few kilometers north of the city, Uppaveli was our home during the week we spent in Trincomalee. A chain of hotels lines the coast, but we had the beach almost entirely to ourselves. After trips to action-packed cities like Kandy and Jaffna, a little sun, sand and solitude was exactly what we needed.