For 91 days
we lived on the island of Sri Lanka, and had some unforgettable adventures and experiences. We got up close with the wildlife, learned about the country's volatile history, met the curious locals, visited ancient Buddhist ruins, and tried to explore every corner of this amazing country. Whether you're planning your own trip to Sri Lanka, or just interested in seeing what makes it such a special place, we hope you enjoy our anecdotes and photographs. Start
at the beginning
of our journey, visit our
comprehensive index
to find something specific, or choose one of the articles selected at random, below:
We've gathered together all of the articles and over 250 photographs from our three-month adventure in Sri Lanka into an E-Book for your Kindle or E-Reader. Carry all of our Sri Lankan experiences along with you in this portable format. The book includes a comprehensive index, which makes navigation a cinch, and features all our anecdotes, advice and the best full-color images from our months in Sri Lanka. We had an unforgettable time in this beautiful and occasionally frustrating island nation, and hope our experiences can help enrich your own visit there.
The small, densely-forested Udawattakele Sanctuary is home to a huge variety of plants and animals, and offers a number of long, secluded paths for exploration. During the morning we spent there, we felt completely alone, almost frighteningly so. Amazing, considering the fact that Uduwattakele is basically in the middle of Kandy.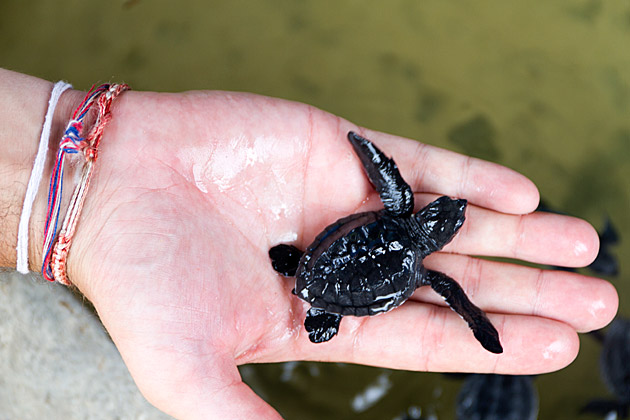 Sri Lanka is one of the world's most important breeding spots for the endangered sea turtle, but heavy development of the coast has contributed greatly to their ever-declining number. To combat that trend, a number of hatcheries have opened along the southern coast. We visited one in Habaraduwa.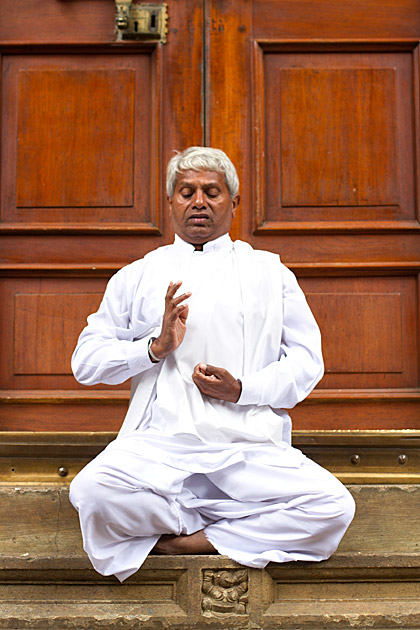 We planned our visit to Kandy's Temple of the Tooth with a poya, or full moon, day. Buddhists follow the lunar calendar and Poya Days are the most sacred of the year. So the temple — Sri Lanka's most important — was packed full of worshipers. As you might imagine, there were a lot of photogenic moments just waiting to be captured.
No, Dickwella and the Hoo-maniya Blowhole is not the perverted name of a new punk band, but the twin objects of our first day trip outside of Tangalla. The blowhole is a natural wonder formed by cliffs along the coast, and Dickwella is a frantic coastal town where activity can reach a level of absurdity.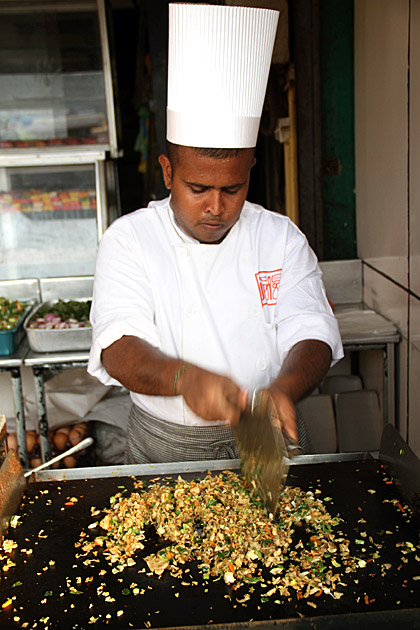 One of Sri Lanka's most typical dishes, and perhaps my favorite, is kottu. Combining rotti bread, veggies, a variety of spices and (optionally) egg, cheese or chicken, it's one of the country's few specialties in which rice plays no role. And the best part is, you don't ever have to look for a restaurant which serves kottu … just listen.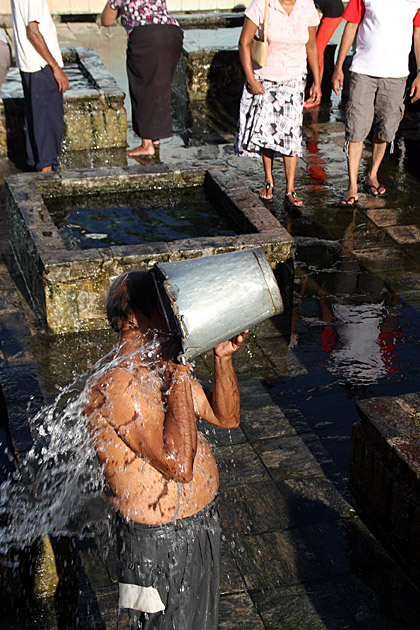 After a few days spent recharging our batteries on Uppuveli Beach, we were ready for some sight-seeing. Luckily, we didn't have to go far. A tuk-tuk driver agreed to take us on a 500 rupee round-trip tour of two great spots near Trincomalee: the Kanniyai Hot Wells and the Velgam Vihara, which is an ancient monastery set near a picturesque lake.