For 91 days
we lived on the island of Sri Lanka, and had some unforgettable adventures and experiences. We got up close with the wildlife, learned about the country's volatile history, met the curious locals, visited ancient Buddhist ruins, and tried to explore every corner of this amazing country. Whether you're planning your own trip to Sri Lanka, or just interested in seeing what makes it such a special place, we hope you enjoy our anecdotes and photographs. Start
at the beginning
of our journey, visit our
comprehensive index
to find something specific, or choose one of the articles selected at random, below:
We've gathered together all of the articles and over 250 photographs from our three-month adventure in Sri Lanka into an E-Book for your Kindle or E-Reader. Carry all of our Sri Lankan experiences along with you in this portable format. The book includes a comprehensive index, which makes navigation a cinch, and features all our anecdotes, advice and the best full-color images from our months in Sri Lanka. We had an unforgettable time in this beautiful and occasionally frustrating island nation, and hope our experiences can help enrich your own visit there.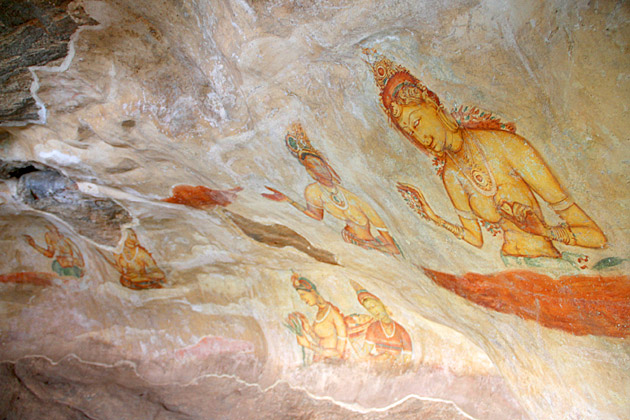 Sri Lanka's most iconic paintings are the Sigiriya Damsels, found halfway up the Lion Rock. When they were originally painted in the 5th century, around 500 naked ladies adorned the wall in a massive mural which spanned 450 feet in length and 130 in height. Only twenty-one damsels have survived into the modern day, though the passage of over 1500 years makes the survival of anything a minor miracle.
Though the crazy monsoon weather we experienced during our two weeks in Galle soured our moods and ruined planned excursions, it did give us the chance to explore the Fort neighborhood in full — particularly its restaurants, cafes and bars. Here were some of our favorite spots during our time there.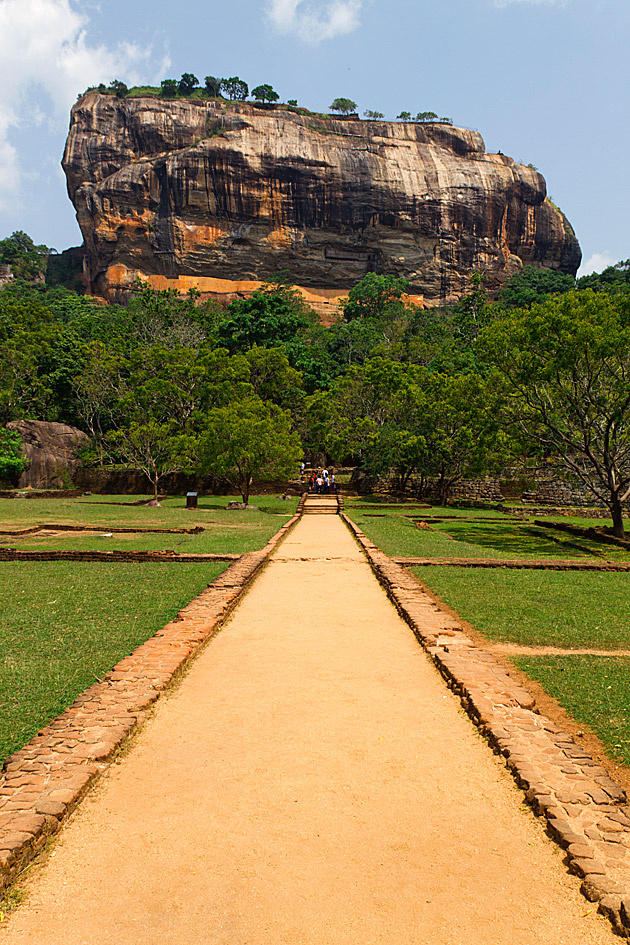 Prince Kassapa had always harbored a secret jealousy towards his half-brother Moggallana. Upon the demise of their father, King Dhatusena, the throne would surely pass to Moggallana, whose mother was the Royal Consort. Kassapa, on the other hand, had been born of a common concubine. But he was not the sort of youth to resign himself to his fate. "No", he told himself in the palace at Anuradhapura one dark evening in 473 AD. "No, the throne must be mine"!
Nearby the Temple of the Tooth is the International Museum of World Buddhism. Hosted in the former High Court building, this comprehensive study of Buddhism throughout Asia only opened in May, 2011, and has rooms dedicated to sixteen nations, from China to the Maldives.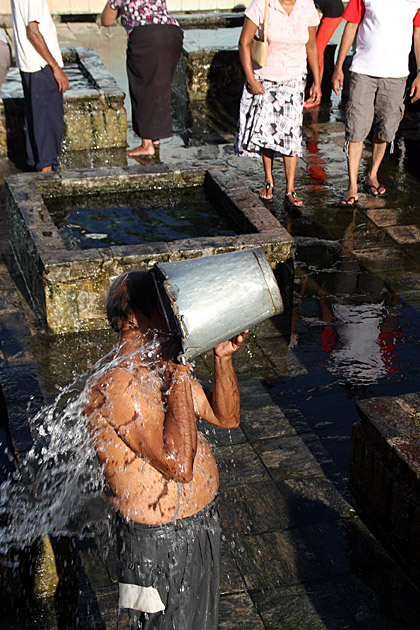 After a few days spent recharging our batteries on Uppuveli Beach, we were ready for some sight-seeing. Luckily, we didn't have to go far. A tuk-tuk driver agreed to take us on a 500 rupee round-trip tour of two great spots near Trincomalee: the Kanniyai Hot Wells and the Velgam Vihara, which is an ancient monastery set near a picturesque lake.
Our first day in Trinco, while we were walking up Fort Frederick Road, we spotted a small deer in a park. Of course, deer are skittish, but we were unusually nearby and no "danger alarm" seemed to be going off in his head. Then we noticed another deer, walking alongside dogs, and another approaching a group of people. Then we saw someone petting one. Then I pet one. And after that, we watched a couple guys share their rice and curry with one. And that's when I figured out there must be LSD in my water.