Horton Plains and World's End
Download our blogs to your eReader
Twenty miles south of Nuwara Elyia is the Horton Plains National Park, which is most well-known for its amazing viewpoint called World's End. The relatively cool temperatures of the park, steady precipitation, high altitude, and the convergence of three rivers create a rare and fragile ecosystem in which a unique biosystem flourishes. Some of the birds found in Horton Plains are only found here.
Clouds and haze are a constant presence at Horton Plains, and the only window of opportunity for a clear view at World's End is in the early morning. So we climbed into a van leaving Nuwara Eliya at 5:30am. This was our first encounter with Sri Lanka's national park system, and we were shocked at the fees levied on foreign visitors. Between the transport, the entrance, a "vehicle fee", a ticket for our driver, taxes, and an undefined "service charge", our excursion cost around $50 apiece. Perhaps at a later date, we'll get into the shameless chicanery of Sri Lanka's tourism efforts, but for now suffice to say that we started our adventure at Horton Plains in sour spirits.
The optimal hour for arriving at Horton Plains is no secret and, upon leaving the van, we found ourselves in an long line of hikers. Luckily, the loop walk through the park is long and we could eventually space ourselves out from others. Besides, the nature is strange and beautiful, and we soon forgot about the human presence. While walking, we saw a jungle fowl, the national bird of Sri Lanka, and herds of sambar deer grazing on the plains — one of these confident, hulking beasts would approach our van window on the way out.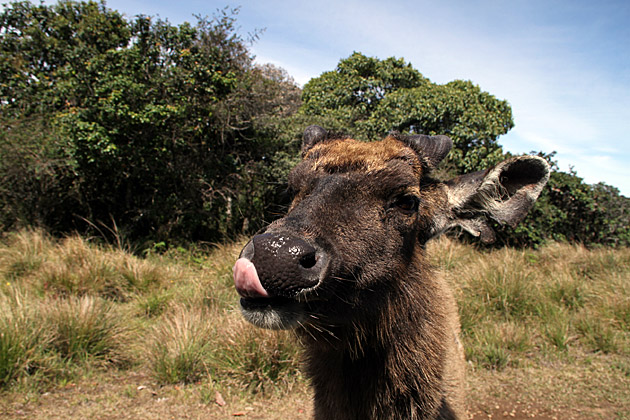 Baker's Falls was the first stop during our three-hour walk around Horton Plains. Fed by the Belihul Oya river, this wide waterfall drops about 20 meters. A bit further up the path, we arrived at the World's End, one of the most famous sights in all Sri Lanka. The highlands come to an abrupt end here, as though God suddenly ran out of "mountain". The land plummets straight down for nearly a kilometer, and standing on the cliff looking down on the land below, I felt like I was in an airplane. Amazing.
Small World's End, another twenty-minutes up the path, might have a smaller vertical drop but boasts the lovelier view (and actually, neither could compare to the view of Mini World's End at Knuckles).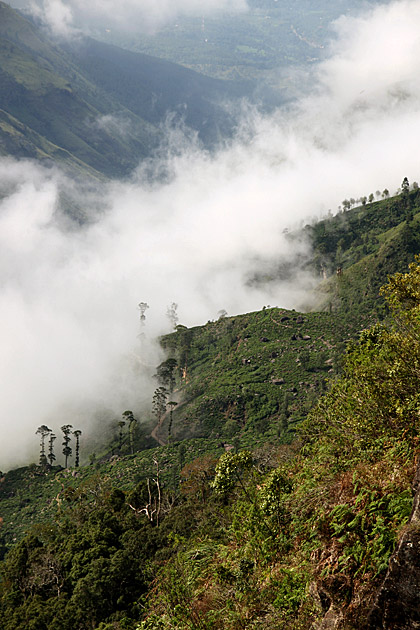 The rest of the track, through cloud forest, was beautiful if unmemorable, and we were done with Horton Plains at around 10am. It's a big park, and there are other trails to be explored, but that would have required more coordination with our driver (read: "$$") and we couldn't justify spending another cent. Overall, it was a cool day trip, but not worth the price. Regardless of how filthy rich you are, I can't imagine a viewpoint which is worth $50 to peer over.
Location of World's End on our Map
–Spices From Sri Lanka
Here's one scheme to look out for, which might be specific to Nuwara Eliya. Our van fit six people, and we had found another couple to split the journey with us. We would have saved on transport, and various charges at the park. But, outrageously, our driver demanded twice the amount for four people as for two. Later, a guy would tell us that at his hotel, three separate vans came to pick up three separate groups of two tourists. It's all a swindle, coordinated to line the pockets of as many locals as possible, and the hotels are in on it too. Unfortunately, there's very little you can do, except play along or refuse to go.