Known around Sri Lanka as "Little England", Nuwara Eliya is the highest city on the island, at around 6128 feet above sea level. Throughout history, this mountainous patch of the country had been almost entirely unpopulated, but the British recognized the potential value of its soil and climate. In 1846, explorer Samuel Barker (who would later "discover" Africa's Lake Albert) founded Nuwara Eliya, which quickly established itself as a favorite retreat for the ruling class, and eventually gained prominence as a center for tea cultivation.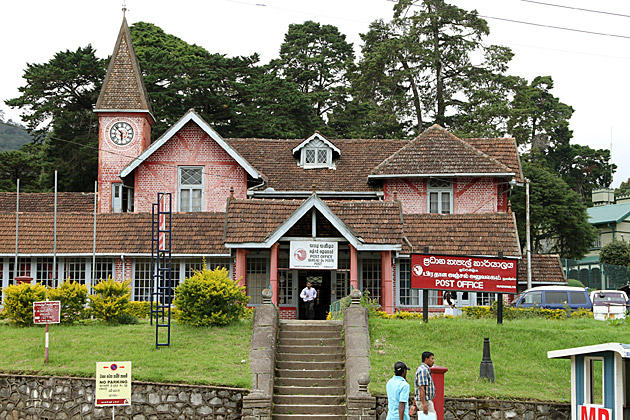 We arrived in Nuwara Eliya expecting to be enchanted by its quaint English charms, but were quickly disillusioned. Today, it's a very Sri Lankan city, with the usual array of shops and smoggy, noisy traffic. Some vestiges of the privileged colonial life still remain, notably in the horse track, the grand old hotels and government buildings, but to call Nuwara Eliya "charming" would be a real stretch.
After pushing through the muck of downtown, we ascended Single Tree Hill, which cuts a beautiful path up through the fields of the Pedro Tea Estate. We passed a single Buddhist temple, and a ton of Hindu people — Nuwara Eliya is notable for having a majority Tamil population, brought over from India by the British to work at the tea plantations.
Besides the hike up Single Tree Hill, we couldn't find much entertainment in Nuwara Eliya. There's a park which we were done with in ten minutes, and a famous golf course. Golf's not our thing, so we decided to spend the afternoon drinking at one of the beautiful old hotels near the course. The most storied is the Hill Club, which proved its snooty credentials by denying us entrance. No shorts allowed. The Grand Hotel, though, was less exclusive and allowed us to stretch our dirty, bared limbs on their veranda for a couple hours.
We didn't have a great time in Nuwara Eliya, but the city's attractions weren't the main reason we were visiting. Horton Plains National Park is nearby, as well as a large tea plantation. As a base for excursions, Nuwara Eliya served its purpose fine, but the city itself was a disappointment.